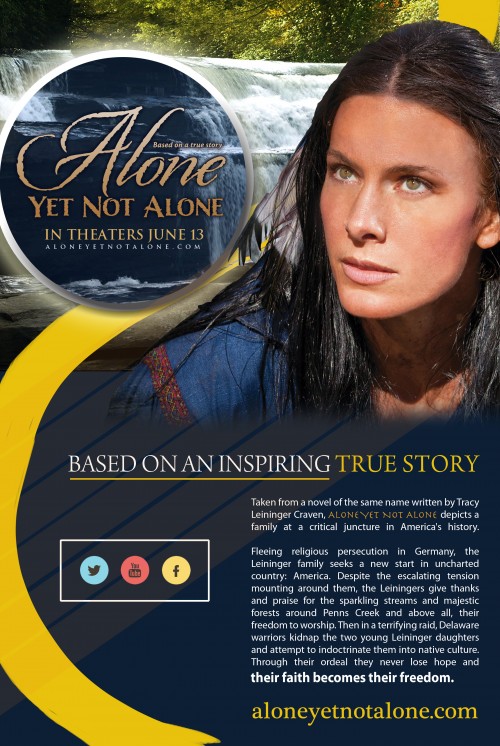 ALONE YET NOT ALONE, which garnered attention during the Academy Awards when its Best Original Song nomination was rescinded earlier this year, had an impressive box office weekend opening. The film opened at #3, based on per screen average for films released on 100+ screens, #8 overall in per screen average and #14 overall in the marketplace this Father's Day weekend. Reaching $5,191 per screen, ALONE YET ALONE is currently ranked as the #2 independently distributed film in the country, behind CHEF.
ALONE YET NOT ALONE is based on the true story taken from the novel of the same name written by Tracy Leininger Craven that speaks of hope triumphing over despair, faith overcoming fear, and of victory prevailing over adversity.
The film stars Kelly Greyson (Return To The Hiding Place) with Jenn Gotzon(God's Country, Frost Nixon) and actor/musical artist Clay Walker (Clay Walker: Jesse James). George Escobar and Ray Bengston co-directed James Richards'screenplay while Richards, Bud S. Smith and Ken Wales served as executive producers. Escobar, Barbara Divisek, Michael Snyder and Cynthia Garcia Walker produced the movie.
"This opening weekend experience was definitely a career highlight," says George Escobar, co-director/co-writer/producer. "I couldn't be happier that this movie brought people to knowing God's loving embrace and promise."
"We are thrilled to see Alone Yet Not Alone get such a good start in theaters and look forward to adding more screens and cities soon," says Dan Merrell, founder and CEO of Seatzy. "We continue to get requests from around the country to open the film in cities and towns where the film has yet to play."
The film's ticket pre-sales campaign through Seatzy, along with support from Christian radio and local churches and ministries, raised consumer awareness and helped advance sales in the opening markets. The movie continues to gain momentum with moviegoers and will roll out in additional cities this week.
"We're excited so many groups around the country bought tickets opening weekend to see this powerful film," Victor Vanden Oever, Group Ticket Sales Manager said.
Highlighting themes of endurance, perseverance and faith with positive values and entertaining action sequences that make it safe viewing for families, ALONE YET NOT ALONE gained endorsements from notable leaders around the country who were excited to see this film hit theaters over Father's Day weekend.
See what people are saying about ALONE YET NOT ALONE:
"A riveting, faith-filled movie that will keep you on the edge of your seat! A plot that leaves you inspired and filled with a hope that can change lives!"
– Tony Perkins, President, Family Research Council
"Everyone who is an adult or approaching adulthood needs to see this film. The technical quality, the beauty of the acting, and most importantly the inspiration of the story will get to your heart and elevate your spirit."
– Dr. James Dobson, Founder and President of Family Talk
"A true story of faith that you will be inspired by seeing. I pray you do and you will be blessed!"
– James Robison, President, Life Outreach International
"I was really impressed by the story! Excellent! You can take the whole family!"
– Tim Wildmon, President, American Family Association
"This movie is fantastic! Drama, adventure, history! You're going to come away feeling so inspired! Don't miss it!"
– Shirley Dobson, Chairman, National Day of Prayer
"I've watched Alone Yet Not Alone a few times and it is a wonderful movie. Take your whole family to see it!"
– Michael Farris, Founder, Home School Legal Defense Association
"A great movie! Alone Yet Not Alone is a story of faith and a great movie for the entire family to view together. Let me highly recommend Alone Yet Not Alone for your family."
– Penny Nance, President, Concerned Women For America
"I loved it! The story is gripping, photography stunning and message so wonderfully reassuring. On behalf of the scores of viewers whose spirits will be lifted by this project—thank you, thank you, thank you."
– Max Lucado, Best-Selling Author and Inspirational Icon