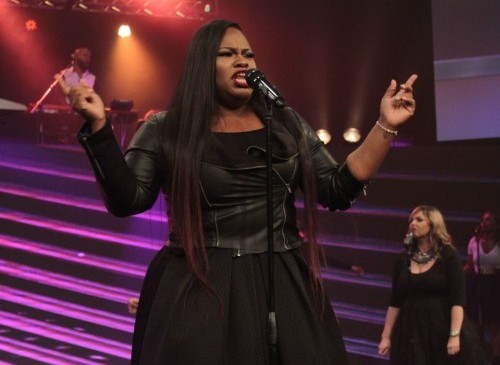 Tasha Cobbs' recent live recording was a worship-filled, high energy event that will certainly deliver a sophomore album equally as captivating and powerful as her national debut, GRACE.
Cobbs unloaded a multitude of standard-raising songs during the recording, which took place at The Redemption Center in Greenville, South Carolina. Produced by Vashawn Mitchell, with writing by Mike Brown; Cobbs; her mother, Bertha Cobbs; Deon Kipping; Vashawn Mitchell; Bishop William Murphy III and Vaughan Phoenix, attendees were treated to uptempo praise jams; lingering praise and worship ballads, and a dose of rock-inspired gems that showed another side of Cobbs' artistry. Kierra Sheard and Jamie Grace were featured on two songs, and Bishop Paul Morton; Bishop William Murphy III and Brian Pierce joined Cobbs for an amazing moment that had the crowd on its feet.
Guests at the recording included Anthony Brown; Isaac Carree; James Fortune; Deon Kipping; Pastor John Gray;Preshea Hilliard; Leandria Johnson; Kevin Levar; Tasha Page-Lockhart; Jonathan Nelson; Pastor William McDowell; Joshua Rogers and many others.
Pastor John Gray, who addressed the audience at the beginning of the recording, said "Tasha carries something that many others don't carry…she has a gift where others feel they can access heaven when they hear her sing."
Cobbs said, "The recording theme and focus of this project are on the intimate place, the intimate time between JESUS and the worshipper. That is the atmosphere that was created during the recording, and it is what listeners will receive when they hear the album."
Tasha Cobbs will wrap up 2014 with ministry duties that will take her around the world, including Lagos and Abuja, Nigeria and Dominica.
She will perform her latest single, "For Your Glory," on BET's Bobby Jones Gospel on January 25, 2015.
Tasha Cobbs is Worship Pastor at the dReam Center Church of Atlanta, and Worship Leader for the Young Adult Division of the Full Gospel Baptist Fellowship.  Through her iLead Ministry, Cobbs mentors thousands of worship leaders around the world. Her debut single, "Break Every Chain" was #1 at Gospel radio for 8 weeks and remains a signature worship song. Her current single "For Your Glory" is Top-15 on the Billboard Gospel Radio Chart. Tasha Cobbs is the recipient of a Grammy Award, three Stellar Gospel Music Awards and three Dove Awards.