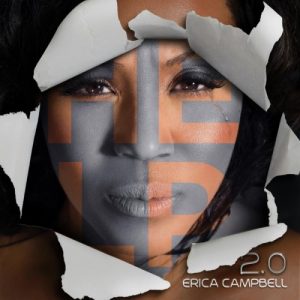 Erica Campbell's HELP 2.0 leads the way this week on Billboard's Top Current Gospel Chart, topping the chart at Number 1.  The updated re-release of Campbell's Grammy® Award winning solo debut, HELP, is the most popular gospel album in the country this week.
HELP 2.0 also lands in the top 10 on the Top Christian/Gospel Albums chart and appears on several other charts including the Top 200, Top Current Albums, Top Independent Albums and Top Current Digital.
"There is just  so much more to sing and say," said Erica.  "I'm just getting started! As long as God keeps opening the door for me I'll keep walking through it!   So humbled and so grateful."
The 14-Track remix project features current single, "More Love," a timely and inspirational song. Campbell's "More Love" music video premiered on VH1 last week and is currently seen on VH1, Centric and online everywhere.
The second of the two new solo tracks "I Luh God," has been making waves and creating conversation across the internet this week.  Not only is it the most talked about song, but it is the Number 1 digital gospel song in the country.  Featuring LaShawn 'Big Shiz' Daniels, it's a hot song that finds Erica embracing her inner 'urban' side with bounce track that is unforgettable.
Guest artists make HELP 2.0 shine; uniquely matched artists are paired with Erica on her past hits making this album a must have for any fan.  The gorgeously subtle duet "All I Need Is You," features phenom Jonathan McReynolds.  It is both powerful and soft at the same time, giving the song a new life. Another special moment is a pop, country version of "I'm A Fan," with CCM star Jason Crabb.  The rare pairing of genres is perfect as Crabb's signature voice is suited for the sweeping ballad. Also joining Erica on her popular song "A Little More Jesus," are two remarkable singers Fantasia and Lisa Knowles.  The three powerhouse singers make this an instant new-classic.
Erica is coming off an amazing 'stellar' night winning 8 Stellar Awards recently including top honors Artist of The Year, CD of the Year and Female Artist of the Year.  Her hit show "Mary Mary" on WE tv is in Season 4 and airs Thursday nights at 10pm EST.  Erica has plans to hit the road on HELP 2.0 summer tour slated for later this year.