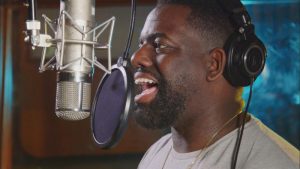 After years of producing music for Erica, Warryn finally steps up to the mic for more than background vocals and records a full-fledged duet with his wife. Warryn always demands the best out of his artists but how will he take Erica's direction when the tables are turned? Warryn's reaction is priceless when the First Lady Erica puts on her producer hat and Warryn takes his turn in the booth!
Meanwhile Joi leaves for Atlanta to open for PJ Morton, famous keyboardist in the band Maroon 5, on his solo tour. It's her first time performing her own music on the road and the stakes couldn't be higher. Erica plans to makeover Krista and Zaya's room but when the two sisters can't seem to agree on anything and take it for granted, Erica throws them a curve ball..
Tune in to WE'RE THE CAMPBELLS every Tuesday at 
8 p.m. ET
/7 p.m. CT on TV One. Viewers can also tune in to YouTube for the weekly to the digital exclusive after show …WITH WARRYN & ERICA, for up-close-and-personal content from the Campbells where they reveal how they have dealt with common issues that could make or break any relationship. Join the conversation by connecting via social media Twitter, Instagram, and Facebook (@tvonetv) using the hash tags #WERETHECAMPBELLS and #
REPRESENT.