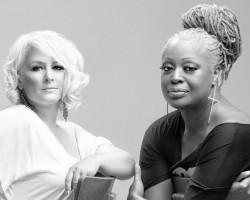 Emerging female duo AsOne delivers an innovative sound to the music industry with their forthcoming self-titled debut release AsOne (360MusicWorx/Capitol Christian Distribution/Universal Music Group) available in stores and on all digital platforms Tuesday, June 23rd. Everything about this musical work is revolutionary. From the group themselves, consisting of Lisa Wright and Theresa Bailey who are the first interracial female duo in music history across all genres, to the breathtaking production that's reminiscent of a movie soundtrack, to heart stirring, soulful vocals.
AsOne's album release event will take place this Saturday, June 20th at the Capitol Theatre located at 110 West Main Street in Lebanon, Tennessee (near Nashville). The event starts at8pm and is FREE to the public.
AsOne's promotional tour has been very successful, with appearances at the WNRR Garden City Gospel Fest in Augusta, GA; Fresh Start Church in Duluth, GA (near Atlanta);
WLOU Summerfest in Louisville, KY; and Nashville's 92Q with Connie Dickerson.
The duo will continue their promotional run beginning this week with confirmed appearances on Nashville's WENO 760AM (June 18); TBN"s Nashville Praise-A-Thon and JUCE TV's Real Videos Live (June 19); WLTZ's The Dee Armstrong Show in Augusta, GA and WATC 57 Atlanta Live (June 22); CBN News (June 23); The Word Network's Rejoice In The Word program hosted by Bishop George Bloomer in Detroit (July 24); Atlanta Interfaith Broadcast's (AIB) Offstage with Reginald Prince and Radio One's Praise in the Park in Atlanta, GA (August 1). 360MusicWorx will be announcing additional promotional dates in the coming weeks.