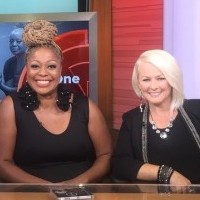 Music's First Ever Interracial Female Duo, AsOne, will sit down with Roland S. Martin on the infotainment program "News One Now with Roland S. Martin" Monday, August 17th on TV One cable network. In it, AsOne talks about how they became a duo and the launching of their #BeLoveChallenge initiative.
In response to the national trend of riots and unrest, hate crimes, social and civil injustice and outright killings of unarmed civilians, AsOne are hoping to bring people together to share their message of love, unity and racial harmony through the #BeLoveChallenge.AsOne is challenging people to get to know someone of another race, class or religion by posting a selfie or video on their social media pages and tell about your interaction using the hashtag #BeLoveChallenge and "liking" the BeLoveChallenge Facebook page.
AsOne also discuss their recent self-titled debut album release which has garnered praises from The Huffington Post and favorable reviews from various music critics. Since the release of their self-titled debut album in June, 2015, the CD debuted at #1 on Christian Music Trade Association's (CMTA) Inspirational Albums chart and has remained in that position for 5 non-consecutive weeks. The CD also debuted at #10 on Billboard's Top Gospel Albums chart and has held steady in the Top 15 for 5 non-consecutive weeks as well.