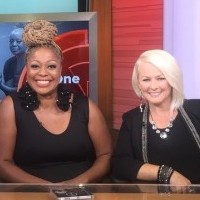 Music's First Ever Chart-Topping Interracial Female Duo, AsOne, sit down with Roland S. Martin on the infotainment program "News One Now with Roland S. Martin" tomorrow Friday, August 21st at 9:00am EST/ 8:00am CST for a 1 hour music special on the TV One cable network. Other guests slated to be on the show are Musiq SoulChild, Marvin Sapp, Adina Howard, Naturally 7, Freda Payne, among others.
In it, AsOne talk about how they became an interracial female duo, and what led to the launching of their #BeLoveChallenge initiative. They also discuss the recent success of their self-titled debut album that was released in June, 2015. To date, the CD has garnered praises from The Huffington Post and favorable reviews from various music critics across the country.
AsOne's self-titled debut album celebrates 6 non-consecutive weeks at #1 on the Christian Music Trade Association (CMTA) Inspirational Albums chart this week. The CD which debuted in the Top 10 on Billboard's Top Gospel Albums chart has held steady near the Top 20 for 7 consecutive weeks.