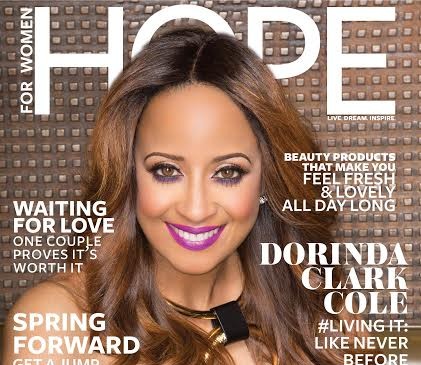 Dorinda Clark Cole is experiencing the ride of her life as her latest album, LIVING IT, continues to top sales and radio charts. Next week, when the Spring Issue of Hope for Women Magazine becomes available, a stunning Dorinda Clark Cole opens up about the ups and downs of her life and why LIVING IT is such an important album for her.
Dorinda tells Hope writer Tonya Dixon: "God came through for me. Every song you hear [on LIVING IT] is definitely about this journey. For over 25 years, I've said, 'As you go through trials, each trial gets harder. You have to go through the test to have a testimony; you have to go through the mess to have a message.' If I never knew this to be true for myself, I absolutely know it now."
"There is a scripture that simply says God won't put more on you than you can bear. I really believe that God has allowed us to gain enough faith and strength to hold on to Him until we get through this thing that we call a struggle…I'm just hoping that women catch on to faith in this season of their lives," says the dynamic singer and evangelist.
Angelia White, Editor-in-Chief of Hope for Women Magazine, says "Dorinda Clark Cole brings her journey to life through her new album LIVING IT as she seeks to inspire others through sharing her faith. Hope for Women is honored to share Clark Cole's message and how she's using music to speak to the soul and truly reveal what it means to Live.Dream.Inspire."
The Spring Issue of Hope for Women Magazine will be available Monday, March 30. Click here for a free subscription: bit.ly/ichoosehope,or visit www.hopeforwomenmag.com.
Dorinda Clark Cole's album LIVING IT is available everywhere music is sold, including iTunes, Amazon and Google Play.  For an extra dose of musical brilliance, there is a special deluxe edition available exclusively at Walmart that includes the bonus tracks "Pray" and "Win".