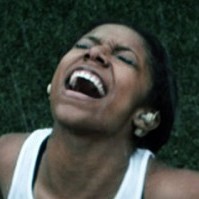 This past Saturday, TV One premiered "Hear No Evil", a faith-based film with a thriller twist. Directed by radio personality Russ Parr, "Hear No Evil" gave audiences a unique approach to faith, when a 15-year-old hearing impaired girl named Shelby Carson suddenly gains the ability to hear after an unexpected accident. Although she's no longer forced to hear silence because of her disability, she begins to hear messages from God that reveal more than she bargains for about her loved ones and strangers.
Russ Parr, whose radio show, "Russ Parr Morning Show", is syndicated in 45 cities, says the story he told within the film was given to him directly from God. Parr's daughter was very sick a few years ago and he feared for her life. He used his radio show to ask listeners to pray for his ailing daughter.
"I felt unworthy of asking people to pray for my daughter — that other people have worse problems than I do, but I did. I went on the radio and I asked everybody to pray for my daughter," Parr recalled in his interview with Christian Post. "The next day, she was better. And if there was any doubt that solidified my faith in God and the power of prayer."
Thus, inspiring Parr to write "Hear No Evil," in order to demonstrate the power of God and prayer.