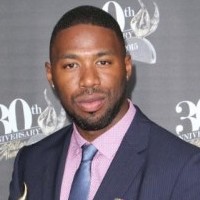 For director Matthew Cherry the only thing to do is say yes when asked to helm a music video for the reunion of the iconic girl group Destiny's Child, and of course show up at the Stellar Gospel Music Awards to accept at the Video Of The Year Honor held in Las Vegas Saturday.
After Michelle Williams teamed with her former bandmates Beyonce and Kelly Rowland to record the smash single "Say Yes" she then turned to Cherry to direct the music video. The long awaited reunion of one of the most popular recording groups of all time, as most might expect, won the top video honor at the Stellar Awards.
"Winning Music Video of the year at the 2015 Stellar Gospel Music Awards is such an incredible honor and a huge surprise," said Cherry.  "I am so happy for Michelle, Beyonce, Kelly, and everyone on their various teams for creating an incredible song and for trusting us to bring the visual to life."
Directed by Cherry, the "Say Yes" video is a street party with Michelle, Beyonce and Kelly dancing, singing and–if only for a moment–transporting viewers back to the days when Destiny's Child dominated the charts.  The video is lush and colorful with a feel-good vibe.   Williams debuted the "Say Yes" video on Good Morning America and to-date the YouTube version has garnered over a million views.  Winner of the American Black Film Festival's Best Picture honors for "The Last Fall" this is Cherry's first award for music video directing.
"I want to thank Ron Johnson and the good folks at Central City Productions, TV One and everyone who took the time to vote for the video," said Cherry.  I especially want to acknowledge everyone at E One Nashville, and all the crew members, actors, singers and dancers who were apart of the video, as film is truly a team effort. God is good."