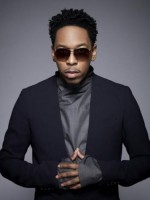 Two award-winning powerhouses have teamed up to bring gospel music and entertainment to new creative heights, as Entertainment One Music (eOne Music) announces the signing of award-winning gospel superstar, songwriter, and producer Deitrick Haddon to a new partnership, with the formation of his label DHVisions, in association with Relevé Entertainment.  In the formation of the DHVisions label partnership with Haddon, the chart-topping record label and hit-making gospel superstar's creative forces come together to continue driving forward the power of gospel across new ground, with the label partnership encompassing new music as well as Haddon, Relevé Entertainment and eOne partnering to develop and produce television/film content.
Haddon continues to be a compelling television fixture – having garnered success on hit TV shows, and become an Oxygen network favorite starring on the series "Preachers of L.A." and "Fix My Choir" – but he is eagerly returning to his first love, gospel music.  Respected worldwide for his unique, bad boy, cutting edge style of gospel, the 3 time Grammy-nominated, Stellar and Dove Award-winning superstar has been behind groundbreaking gospel hits like "Sinner's Prayer," "Have Your Way," He's Able," "Well Done" and more.  Following chart-topping projects from his choir album Deitrick Haddon's LXW (League of Xtraordinary Worshippers), to R.E.D. (Restoring Everything Damaged),Church on the Moon, and others, since his first release with Voices of Unity almost 20 years ago the Detroit native has earned countless accolades as a gospel leader, pioneering a distinctive progressive, urban contemporary style whose vision for the future of gospel defies expectation on each project.
The award-winning home for a diverse lineup of talent from the sounds of contemporary gospel to traditional gospel, choir, urban inspirational and more, eOne Music's gospel label continues to be a leading force in sustaining gospel's powerful history and continued influence across the world, as well as developing talent whose multi-faceted music fuels spiritual inspiration with audiences everywhere.  Boasting an acclaimed roster that includes pioneering legends from Gospel Hall of Famer Pastor Shirley Caesar, Gospel icons Dorinda Clark-Cole and Bishop Paul S. Morton, to the celebrated sounds of chart-toppers Ricky Dillard, Donald Lawrence, Erica Campbell, Michelle Williams, William McDowell, Jonathan McReynolds and more, eOne Music's creative talents have been at the forefront of building a powerhouse music ministry with gospel's biggest hit-makers.
Phil Thornton, eOne Music Vice President and General Manager, Urban Inspirational, says: "At eOne Music, we are excited to partner with the critically-acclaimed, award-winning superstar Deitrick Haddon in forming this new label partnership DHVisions, as he returns to produce the music his fans worldwide have always loved. Deitrick's multi-faceted talents and the dynamic gifts that he's brought to every project have made him an undeniable visionary artist, and we look forward to breaking new creative ground together in the field of gospel entertainment."
Dr. Holly Carter, CEO and founder of Relevé Entertainment, adds: "As Deitrick's manager and partner in his entertainment endeavors, I knew he had to have the right partner. What Phil and his team at eOne have done and continue to do in gospel and entertainment overall makes this a perfect match. I am excited about the future."
Says Deitrick Haddon: "As I sat down with Phil and the entire eOne team, I realized we have the same goal, and that's to unapologetically push Gospel music to new heights. It's rare to find a label that's on the same page as the artist. I feel that my music and my vision are in good hands with eOne! Let's Go."