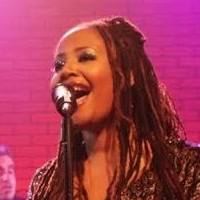 The gifted voice of two-time GRAMMY® Award winning songstress Lalah Hathaway reinforces the stunning artistry that continues to make her a beloved fixture in music.  Following sell-out shows in Los Angeles and Chicago, Lalah Hathaway brings her signature style to Anita Baker's hit song "Angel" and to her father Donny Hathaway's live song "Little Ghetto Boy" on her dual singles.
Forming a new partnership with Entertainment One Music (eOne Music), the acclaimed performer's two new singles mark her first release from her upcoming seventh album Lalah Hathaway LIVE!.  The new singles and album will be released by Hathaway Entertainment with distribution by eOne Music.  Hathaway's single "Angel" will be released to radio on Monday August 3rd.  "Little Ghetto Boy" will be released simultaneously as a viral single, with the dual singles to be available via iTunes on Friday August 7th.  Both songs will also feature video clips for their release.
Phil Thornton, eOne Music's Vice President and General Manager of Urban Inspirational, says: "Lalah Hathaway is a world-class artist with a rich history and talent that's second to none! She has been creating great music for over 20 years and eOne is excited to work with someone of her stature and continue that success!"
Lalah Hathaway says: "This album is a dream fulfilled! It means everything to me to have built this record with and for the fans, as I mark my 25th year as a recording artist. I cannot wait to take this show on the road!!!"
Hathaway recorded her album live at the historic Troubadour Theater in Los Angeles earlier this year, in the same place where her father recorded half of his seminal 1972 album Donny Hathaway Live.  Her seventh album Lalah Hathaway LIVE!, delivers the full-force and intimate live Lalah Hathaway experience that fans everywhere love.  Lalah Hathaway LIVE! will be released on Friday October 30th, 2015.
In addition to the new dual singles release of "Angel" / "Little Ghetto Boy," and her forthcoming album, Lalah Hathaway continues to perform around the country, with upcoming dates in California, North Carolina, New York, Washington DC, and Florida.