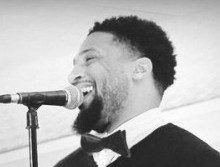 Da' T.R.U.T.H. has never been one to follow the trends. He has always been a visionary and rebel against the status quo of the mainstream.
In a time where many artist are looking for an opportunity on the big stage in front of thousands of people, Da' T.R.U.T.H. performed and recorded a live album in front of an intimate crowd of 75 people at Musically Speaking Studios. This project is unlike anything Da' T.R.U.T.H has done before.
Donned in formal attire, Da' T.R.U.T.H. and his band captivated the crowd with pure lyricism and quality musicianship representing songs from The Big Picture, Whole Truth, Heartbeat and Normal is overrated.
"I wanted to perform the B-Sides, the stuff that I don't normally get to perform at concerts and shows. If you're a music lover, this album is for you," says the emcee.
Inspired by Snarky Puppy, "Da' T.R.U.T.H. Unplugged: A Break From The 808's" is a live album that is refreshing, intimate and captivating. No 808's, no turn up, just good music and God focused Hip Hop.
Track List for "Da' T.R.U.T.H. Unplugged: A Break From The 808's":
Bully (from Heartbeat)
Ain't Going Back (from The Whole Truth)
Change the World (from Heartbeat)
Beyond the Music (Change)
J.I.F.E (from Love, Hope, War)
Great Wall (from The Big Picture)
Beyond the Music (Great Wall)
Forgiveness (from The Whole Truth)
Fantasy (from The Big Picture)
Standing O (from Heartbeat)
Beyond the Music (Ugly Love Part 1)
Ugly Love (from Love, Hope, War)
Beyond the Music (Ugly Love Part 2)
Stop Playin (from Normal Is Overrated)