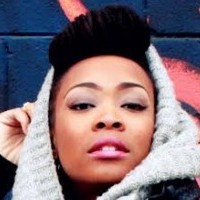 Many believe that the challenges of today's youth are rooted in a lack of self-identity.  Bathsheba Smithen is on a mission to help young people find out who they are and what God's purpose is for their lives.  As an educator, teaching English Language Arts at Community College Preparatory Academy, she gets the opportunity to pour knowledge into thirsty minds.  As a recording artist, she gets to share her gift for music and spoken word as a vehicle to inspire and uplift.  As an entrepreneur and founder of Cage Free Voices, she aims to unlock human potential and free people to walk into their destinies.
"When I speak with students or other youth, I encourage them not to fear who they are," Bathsheba says. "I also encourage them to connect to their Source, God."  Her own story was the impetus to help bring self-realization to others.  Born in Hampton, VA, Bathsheba was raised in the projects of Newport News, VA.  Residing in an urban environment saturated with drugs and prostitution, she learned to cope with the challenges around her.  Her life at home was challenging as well, especially when her mother deserted the family when Bathsheba was 18 years old. After attending graduate school, she was left to raise to her brothers and sisters. Her father was not present. As a matter of fact, he was a married pastor, a fact which made her family situation even more complicated.  She struggled with identity issues and even the name she was given.  It was her own identity crisis and subsequent acceptance and healing that emboldens her to help others who have experienced similar circumstances.
The lyricist and Christian hip hop artist uses music to uplift the soul and recently released a brand new music video called "Let's Get It Rockin'".  A mixture of genres, including what Bathsheba calls "neo-rock", the track is urban-tinged motivation.  The video can be viewed here: https://vimeo.com/98790624.  Penned by the artist herself, the contagious, beat-driven track showcases the charismatic poet rapping inspiration-filled rhymes.  It's all part of Smithen's God-given mission.
She says, "I have seen that many people don't know who they are.  Many are lost and operating out of the fact they don't know who they are.  It took me a long time to navigate my own complicated family situation and find myself.  In my music, I aim to talk about the root of people's identity issues by highlighting the symptoms."
With a love for writing and a talent for words, her educational path was started at An Achievable Dream Academy.  Her time there was followed by studies at Virginia Tech where she received a Bachelor's Degree in Biology and a Master's Degree in Health Systems Management with a concentration in Health Policy from George Mason University.  Since that time, she has taught in primary and secondary education and currently teaches adult education.  Through her company, Cage Free Voices, she travels the country teaching youth and young adults the power of self-acceptance.  Her poetry caught the attention of famed poet Dr. Nikki Giovanni who calls Bathsheba Smithen "a first-rate thinker."  For more information about Bathsheba Smithen, log on to www.bathshebasmithen.com or www.cagefreevoices.com.  Connect with her on Facebook and Twitter.