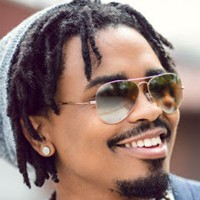 Motown Gospel proudly announces the signing of multi-talented Pop/Soul recording artist Royce Lovett. Royce, an emerging singer/songwriter whose guitar driven melodies and lyrical skills garnered him awareness on the underground independent artist circuit, is poised to bring his thought-provoking messages of love, hope and unity with his debut release WRITE IT ON THE WALL.
Set to rewrite the rules of what music lovers expect from "inspirational artists," the Tallahassee native will release his first single "Show Me Love," a song that talks about building confidence through the love of God, brought to life by a sound that fuses elements of old school Urban soul with progressive R&B. The single will be available digitally on Friday July, 10th.
Music has been a part of Royce's life since his early childhood. His mother, a worship leader, introduced him to all styles of music, from bands like Hillsong to pop superstar Michael Jackson. The music he enjoyed growing up helped to create his eclectic musical palate. As Royce grew musically, he became inspired by Musiq Soulchild, Soup The Chemist, Lauryn Hill and The Fugees; all influencing his unique style and sound.
Royce Lovett is not a typical artist. His unique sound and thought-provoking lyrics spark conversation as well as emotion. His songs are not simply shared in churches and among youth groups. Royce also takes his music outside the norm, performing in night clubs and bars, singing, rapping and quoting scripture while playing the acoustic guitar. His soulful melodies and razor sharp lyrics are driven by his faith and a lifestyle of worship. Royce readies an unapologetic fusion of rhythmic Urban and progressive R&B, as he moves to the global stage.