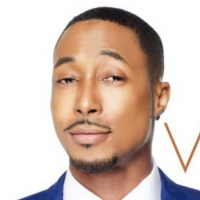 Singer, songwriter, and producer Cecil Thornton and his group Transparent returns with their long-awaited new independent EP VARIATION, available now for download on all digital platforms for only $5.94. This 6 song EP is sure to inspire and encourage all who listens.
A heartfelt project that pays homage to the extraordinary love of God with its unconventional approach to modern gospel, the project's sonic packaging shines with touches of contemporary jazz and neo-soul. A staple for the musically innovative group, the "bow on top" always comes via Cecil's unmistakable tenor and commanding skill that help carry the EP to no ordinary level of praise. Cecil collaborated with producers Aaron Tyson, Travis Malloy, Jesse Bond and Derrick Stevenson on his project.
A multi-talented psalmist and lyricist whose gift has seen him share stages with some of gospel's biggest names like Yolanda Adams and Kim Burrell, the Houston-native immediately saw his name in mention with the genre's "ones to watch" with his celebrated 2006 independent debut "Live Simplicity."
Cecil Thornton & Transparent are undoubtedly one of gospel music's best kept secrets. An innovative group whose unconventional fusion of gospel, neo-soul, jazz, and R&B stylings have seen them touted "fresh winds" in the gospel music scene for their ability to soothe and shift arenas of worship with heartfelt lyrics and stunning vocal displays.
Helmed by Cecil Thornton, a Houston native whose skillful vocal abilities led him to share stages with the likes of Tramaine Hawkins, Yolanda Adams, Kim Burrell, and many others, the Atlanta-based group has finally brings you their sophomore album led by dynamic new single "No Ordinary Love."