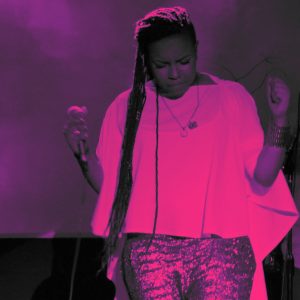 On her fast rising Billboard Magazine Top 12 single "I'm Yours" Casey J confesses her eternal devotion to God and this week gospel radio is pledging its growing love for the bubbly young gospel superstar with Most Added status. Thirteen key radio stations have added the up-tempo anthem into regular rotation this week. The enthralling track is the second radio hit from Casey's #1 debut album "The Truth" (Marquis Boone Enterprises/ Tyscot Music & Entertainment) that also features her groundbreaking smash "Fill Me Up" that spent 14 weeks at #1 on Billboard Magazine's Gospel Airplay chart this year.
"I'm so excited about the doors and windows that God is opening," the former Atlanta elementary school teacher Casey J beams on hearing the news of her song's Most Added status. "God is so awesome. I'm so grateful to all of the radio programmers who played `Fill Me Up' and made it a success but the love the programmers are showing to `I'm Yours' is particularly meaningful because it's one of the first songs I ever wrote and it's a song that I wrote as a testimony to God of my obedience to do His will so that just makes this Most Added milestone all the more special to me and I'm very grateful to everyone."
The divine love sonnet leaped to #12* (up from #19* last week) on the Billboard Gospel Airplay chart and to #12* (up from #20* last week) on the Mediabase Gospel chart for the week ending August 30th. The thirteen stations showing new love to "I'm Yours" this week include WPZE in Atlanta, GA; WPZZ in Richmond, VA; WLOK in Memphis, TN; WJMO in Cleveland, OH; WNNL in Raleigh, NC; WPZS in Charlotte, NC; KATZ in St. Louis, MO; WWIN-AM in Baltimore, MD; WPZR in Detroit, MI; WPPZ in Philadelphia, PA; WPRS in Washington, D.C.; WGRB in Chicago, IL and WLIB in New York, NY.  Visitwww.caseyjmusic.com for more news and updates.
Casey J's "I'm Yours" Lyric Video: