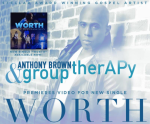 Named the 2013's Stellar Awards Group (Duo) of the Year, Anthony Brown & group therAPy have created yet another top-notch album geared towards helping us experience Jesus every day and in every way. "WORTH" is the purely magnificent debut single from the upcoming new release and sophomore album Everyday Jesus the Live Experience by Anthony Brown & group therAPy, due in stores and online during the third quarter of 2015! The group is set to premiere the music video for "Worth" on Friday, May 1st.
With its grace yet undeniable power, "WORTH" masterfully reminds of us of the sacrifice of our Lord & Savior Jesus Christ and the unmerited favor granted to us by God, our Father. The talented, triple threat artist (singer, songwriter, producer) premiered his brand new song, "WORTH" during his live recording of the upcoming sophomore album to a packed house of more than 4,000 fans and supporters earlier this year in Baltimore, MD.
Gospel radio eagerly anticipated the release of the hot new single and quickly made "WORTH" the #1 most added single per Gospel radio as reported by Nielsen BDS, week ending April 12 and "WORTH" debuted at #29* per the Gospel Airplay Chart Billboard issue date May 9. The digital single is NOW AVAILABLE on iTunes.
Brown's first Tyscot Music & Entertainment project, "Anthony Brown & group therAPy" was released in late 2012 to recognition and accolades.  Billboard Magazine dubbed "Testimony" the "Top Gospel Song of 2013." The 2014 29th Annual Stellar Gospel Music Awards saw the self-titled album win for "Group/Duo of The Year," "Contemporary Group/Duo of The Year," "Contemporary Male Vocalist of The Year" & "Music Video Of The Year" for the hit "Testimony"! 2014 ended with "Testimony" winning the "Top Gospel Song of The Year" honor during the 27th Annual ASCAP Rhythm & Soul Music Awards! Since the debut release, Anthony Brown and group therAPy have traveled the country performing and ministering with performances at the 2013 Essence Music Festival, on BET's "Celebration of Gospel", The Stellar Awards, BET's Bobby Jones Gospel, TBN and more. National press media coverage has been exemplary as well per the likes of JET Magazine and many others!