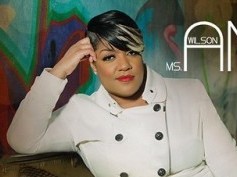 Congrats to Motown Gospel Recording Artist Anita Wilson on her 2015 Grammy Award® Nomination for BEST GOSPEL ALBUM for her critically acclaimed sophomore CD VINTAGE WORSHIP which debuted at #2 on Billboard's Top Gospel Albums Chart upon its release. The 57th Annual Grammy Awards airs February 8, 2015 on CBS!
"What an amazing feeling to be Grammy nominated for a 2nd time!," said Anita. "Wow! After working so hard on "Vintage Worship" it is gratifying to be recognized among such amazing artists. So grateful!"
The city of Fresno, CA is declaring today ANITA WILSON DAY! Her second single "Keep Doing What You're Doing" written and produced by Wilson and Rick Robinson continues to climb Billboard's Gospel Airplay Chart sitting at #23 this week.
This nomination serves as Anita's second consecutive Grammy Award® nomination. Her debut solo CD Worship Soul (2012) received a Grammy Award® nomination for Best Gospel Album of the Year.
UPCOMING DECEMBER DATES
Friday December 5, 2014
Christmas Gala
Westside Church of God
1424 W. California Ave
Fresno, Ca 93706
6PM
Sunday December 7, 2014
House of Hope
10654 Balboa Blvd,
Granada Hills, CA 91344
9:30A
Saturday, December 13, 2014
Concert w Earnest Pugh and Ricky Dillard
Akron Civic Center
182 S Main St,
Akron, OH 44308
7PM
Sunday, December 14, 2014
Concert w Ledisi
Fountain of Praise
13950 Hillcroft Ave,
Houston, TX 77085
6PM
Friday December 19, 2014
Christmas Concert Featuring Anita Wilson
Glad Tidings COGIC
27689 Tyrrell Avenue
Hayward, CA 94544
7PM
Sunday December 21, 2014
Sunday, December 21, 2014
Morning Worship Service
Christ Universal Temple 11901 S. Ashland
Chicago, IL 60643
10:30A
Wednesday December 31, 2014
Watch Night Service
Mississippi Blvd Church
70 N Bellevue Blvd,
Memphis, TN 38104