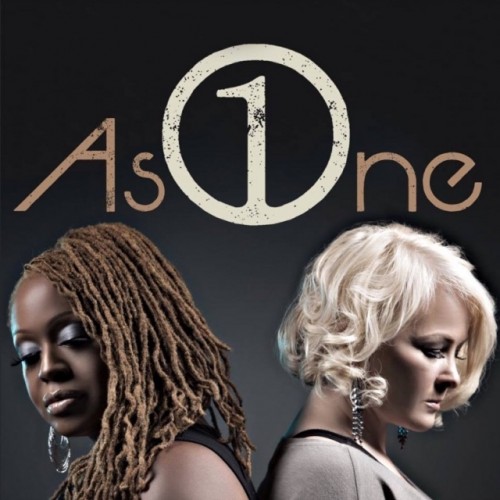 Singer/Songwriters Lisa Wright and Theresa Bailey, better known, as AsOne – Music's First Ever Interracial Female Duo in recorded music history – celebrates 2 weeks at the No. 1 spot on Billboard's Top Inspirational Albums chart with their self-titled debut album release (360MusicWorx/Capitol Christian Distribution/Universal Music Group). AsOne knocked international superstar Susan Boyle out of the No.1 spot last week after spending 35 weeks in that position.
Lisa and Theresa's sincere love for music ministry and their greater love for Christ is what brought them together. Add to that, they are a well-paired writing team with songs that are directly honest, refreshingly hook-driven and irresistibly engaging and whose personal vocal abilities intertwine in a striking display, complimenting one another beautifully.
With a goal of reaching a world that continues to struggle with division, AsOne believes their harmony can help bridge that gap. Inspired and impassioned by the talent that God has given them, Lisa and Theresa co-wrote all songs on their debut release. "It's okay to be different," AsOne explains. "If I take my differences and you take your differences and we put them together, we can make a difference!" And they live by the strong belief that, "In your difference, lies your destiny". AsOne's desire is to touch the hearts of people everywhere by sharing God's love that crosses all boundaries, through song. "Being blessed to do what we love and using our gifts for God's glory is what it's all about," AsOnecomments.
AsOne has been on a whirlwind press promotional tour in support of their debut album release with appearances on Radio One's nationally syndicated shows, "The Donnie McClurkin Show," "The Nightly Spirit with Willie Moore, Jr.," and "The Yolanda Adams Morning Show" in addition to appearing on TBN and various ABC, NBC and CW affiliated news shows.
AsOne will make high profile appearances this weekend in the D.C./Virginia region by joining emerging musical acts Alexis Spight and Livre' among others at the East Coast Gospel Music Summer Fest (July 11) and the 6th Annual Gospel Music Fest on July 12th(with an expected attendance of over 10,000) both in Richmond, VA. The duo will also make their first appearance on Roland Martin's "News One Now' (TV One) and CBN News.
AsOne Tour Dates:
7/10: Washington, DC- The Huffington Post
7/10: Richmond, VA- CW's "Faith On Friday"
7/11: Richmond, VA- East Coast Gospel Music Summer Fest
7/12: Richmond, VA- 6th Annual Gospel Music Fest with the Belle
7/13: Washington, DC- Roland Martin "News One Now" (TV One)
7/13: Washington, DC- CBN News
7/13: Washington, DC- Jawn Murray, Editor In Chief of AlwaysAList.com
7/24: Detroit, MI- The Word Network
8/1: Atlanta, GA- Radio One Praise In The Park
8/16: Cincinnati, OH- 27th Annual Midwest Regional Black Family Reunion