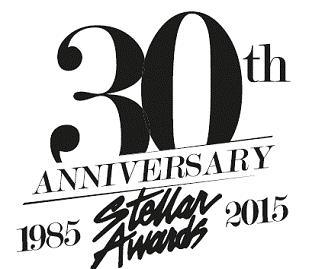 The biggest night in Gospel music, The Annual Stellar Gospel Music Awards, is moving to a new venue and taping date in celebration of its 30th Anniversary milestone.   The show's producer announced today that the telecast will be taped in front of a live audience at the Orleans Arena in Las Vegas, Nevada with a new Spring production date, shifting from January to March 28, 2015.
"I am excited about moving the Stellar Awards to the Orleans Arena in Las Vegas to celebrate our 30th Anniversary in a bigger, more elegant venue," said Don Jackson, founder & executive producer of the Stellar Awards. "The 30th Anniversary of the Stellar Awards will mark the longest running Black awards show in television and we wanted to commemorate this historic occasion in a first class venue that we know our Gospel music stars and guests will enjoy."
Annually the Stellar Awards recognizes the accomplishments of Gospel music icons and individuals instrumental in advocating for Gospel music. The show will air in broadcast syndication on 150 stations in over 125 markets around the country during the Easter holiday season from April 5 – May 3, 2015.
Artist submissions for Stellar Awards consideration will be accepted fromSeptember 1 – September 30, 2014. Per changes to last year's eligibility criteria, projects qualified for consideration this year must have a release date between October 1, 2013 and September 30, 2014. Additional rules, regulation and the online submission form will be posted atwww.thestellarawards.com.
The show is open to the public, with hotel and ticket packages on sale beginning July 26, 2014. Package prices range from $600-$1000 per person and include premium or deluxe accommodations as well as priority seating at the live taping and ancillary events. Individual show tickets for SAGMA members will go on sale August 15, 2014 and general public show tickets will go on sale August 29, 2014. Show ticket prices range from $50-$200.
Prior to the Stellar Awards taping, The Stellar Gospel Music Awards Pre-Show will be held on Friday, March 27, 2015 to announce winners of the non-televised awards categories.  Additionally, The Stellar Awards Gospel Radio Awards & Showcase will be held the morning of March 28 to honor the top radio stations serving urban Gospel music audiences.  Tickets for each event are $30.00.  Advance tickets for SAGMA members can be purchased startingAugust 15, 2014 and general sale tickets will be sold beginning August 29, 2014.
"We are also pleased that the Orleans Arena complex will provide our guests with a one stop destination to attend all of the new and exciting events taking place for our 30th Anniversary production," says Jackson.