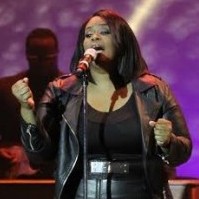 When the 2015 Stellar Awards nominees were announced last week, girl group Zie'l was simultaneously thrilled and humbled that their name was among those up for the award of Best Contemporary Gospel Group/Duo. Even after a 7 year hiatus, the undeniable trio is acknowledged as part of Gospel music's elite by being nominated for a Stellar Gospel Music Award.
This past Saturday, Zie'l demonstrated exactly why they are one of the best and brightest in Gospel music when they delivered a rousing tribute to The Pace Sisters at the BMI Trailblazers of Gospel Music Awards in Atlanta, Georgia. The ladies had the entire audience at the Rialto Center for the Arts on its feet after they belted the first note of "Safety Zone," providing one of the most memorable moments of a spectacular evening.
The latest single from Zie'l – "State of Emergency" – is experiencing resurgence at Gospel radio and is quickly approaching Top-20. Among recent adds of the song are the nationally syndicated SGN Radio Network. "State of Emergency" is the first single off of the trio's self-titled album ZIE'L [PRONOUNCED ZY-EL] , which is currently available on all digital outlets. The album offers a stunning mix of praise and worship; traditional gospel; soulful R&B infusions, and always flawlessly mesmerizing vocals that affirm Zie'l as one of the greatest girl groups in contemporary Gospel music.
Zie'l (Christina Bell, Keyondra Lockett, and Crystal Bell) first wowed the Gospel music industry as a quartet and immediately garnered national attention and a Stellar Award nomination for their debut album GENESIS, which featured remakes of the Clark Sisters' "Is My Living In Vain" and the James Cleveland favorite "Surely He's Able." The powerhouse group hails from Shreveport, Louisiana and is committed to singing the Gospel in a way that not just entertains, but emboldens people to get to know the Lord better.  Zie'l has shared the stage with many Gospel greats, including Yolanda Adams, Kurt Carr, Kirk Franklin, Karen Clark-Sheard, Kierra Sheard, Dorinda Clark-Cole, The Williams Brothers, Donnie McClurkin and John P. Kee.
Zie'l [Pronounced Zy-El] is available now on all digital outlets.