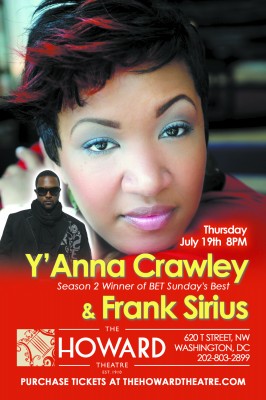 Gospel powerhouse, Y'Anna Crawley is gearing up for her performance at the historic Howard Theatre in Washington, D.C. on Thursday, July 19, 2012. Y'Anna will be the headlining act for the show. The Howard Theatre recently reopened after being shut down for over 30 years. However, after a $38 million dollar renovation project, the theatre is back in business and ready to make history all over again.
"Having the opportunity to take the stage at The Howard Theatre where legends have been made like my musical inspirations Aretha Franklin, Sam Cook, Donny Hathaway, and Smokie Robinson is incredible.  I'm excited and nervous at the same time," says Y'Anna.
The Howard Theatre helped to showcase and further the careers of such stars as Duke Ellington, Ella Fitzgerald, Billy Holiday, Lena Horne, Billy Eckstine, and, later, Marvin Gaye, the Supremes, Aretha Franklin, James Brown, Sam Cook, Smokie Robinson, the Temptations and so many others that just listing them could fill a show business directory.
Y'Anna, who performed alongside Yolanda Adams, Amber Bullock and Jessica Reedy at the 2012 BET Awards, took home the coveted New Artist of the Year Award during the 27th annual Stellar Awards.  With the debut of her freshman album, "The Promise", Y'Anna trumped The Greater Mount Calvary Recording Choir, Preashea Hilliard, and Todd Dulaney for the win. Click here to see Y'Anna's 2012 BET Award performance.
Known for her combination of melodic R&B and "church-girl" vocals, Y'Anna was ushered into the gospel music community as the 2009 winner of BET's hit singing competition, Sunday Best.  Beating out thousands of hopefuls from across the country, Y'anna wowed the judges and fans alike with her powerful voice and stage presence, becoming the show's second winner.
The Howard Theatre is located at 620 T Street, NW Washington, DC. Tickets for the event can be purchased at TheHowardTheatre.com