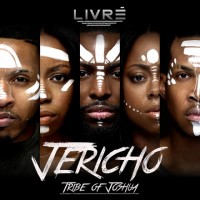 The young, anointed and fashion forward Urban Worship Group LIVRE' have been rapidly growing their presence in urban inspirational and gospel music.  The vocally powerful, radical worshipping quintet of life-long friends have a dynamic presence and commanding approach to connecting with audiences and ushering in the presence of God.
Malik, Richie, Ajanee, Kenny and Ariel are LIVRE' and for over a year fans have been waiting for their debut record.  Wait no longer… JERICHO: TRIBE OF JOSHUA is on its way!
LIVRE' has announced the release of JERICHO: TRIBE OF JOSHUA will be on July 7, 2015.  (Glory 2 Glory Records and Sony Red Distribution). JERICHO: TRIBE OF JOSHUA will feature guest appearances from Mali Music, Jason Nelson, rapper FERG and a few more guest to be announced soon.
LIVRE' stepped into gospel music with instantaneous radio success.  Their first two singles "I Will Be Alright" and "Amazing" both ascended to the Top 20 on Billboard Gospel radio charts.  "Amazing" music video has also become a fan favorite music video receiving national and international airplay on Aspire TV, UPLifting TV, God TV, Soul of the South TV and "Gospel Music Presents" (Badami TV).
LIVRE's new single "Everything's Coming Up Jesus" is continuing to push the group forward by climbing the Billboard BDS Chart to #24 this week.