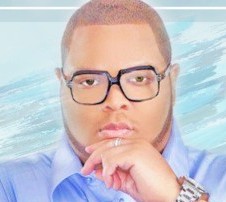 The urban contemporary gospel group Charles Butler & Trinity is known throughout the Middle Atlantic states for its compelling live performances and on the national level, many recall their celestial backing of Earnest Pugh on his riveting 2010 #1 radio smash "Rain On Us." After the Top 15 iTunes chart positioning with their first national radio release "Better" last year the group is ready for their second close-up with their inspiring new single, "Amazing Worth."
"I'm excited that `Amazing Worth' is our second single," Butler says. "It simply talks about all the things that make God Amazing. God's love is unfailing and his hand is Unchanging. I want people to hear this song and reflect on God's love and his Amazing love towards us."
The soaring ballad is led by the warm tenor of Jeremiah Hicks (who's also sung with the likes of Kirk Franklin and Byron Cage) is now rising on gospel radio airplay lists around the country. James Ziegler, who shepherds the dynamic gospel group Another Level, wrote the song and it was produced by Morgan Turner (an extraordinary bassist who's collaborated with the likes of John P. Kee, Dorinda Clark Cole and Jonathan Nelson).
"Due to the overwhelming demand and numerous requests for hard copies of Charles Butler & Trinity's `Better' CD we're finally making it available in physical format, " says EPM Music Group A&R Director Gerald Jones. The physical CD is scheduled for release on July 22, 2014. "The lyric content is right on point and the lead vocalist, Jeremiah Hicks, is one of my favorite singers on planet earth," says EPM Group founder Earnest Pugh. "To be honest the entire CD is blazing so we are pleased to release the CD on a larger scale for our colleague Charles Butler."
Butler formed Trinity in 1997 and they've been on a roll ever since. They've appeared on scores of concerts and appearances backing other artists. However, they got their first taste of national acclaim when they backed gospel star Earnest Pugh on his classic 2009 recording of "Rain on Us." The song shot to #1 on Billboard's Hot Gospel Songs chart and has been a radio staple ever since. Pugh has since had the group tour with him and signed them to EPM in 2012 and the rest is history.