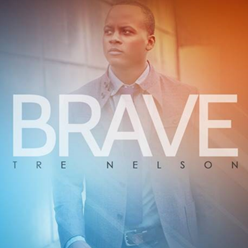 Unlike decades ago, today's Gospel music is a rainbow of musical colors, flaunting styles from rap to country to jazz.  Up-and-coming Urban Contemporary Gospel Artist Tre Nelson is adding his own unique style of Gospel to the mix.  Showcasing the slick production of R&B and the urban vibe of current radio hits, Tre Nelson releases his brand new single, "Brave", on September 16, 2014.  The single is available on iTunes and other digital retailers and will be serviced to Gospel radio stations.
Nelson is passionate about taking the Gospel and exposing it in a relevant way to all generations.  Matters of the heart and day-to-day circumstances serve as the backdrop for the songwriter and artist.  Dealing with issues like abandonment and generational curses, "Brave" is capturing fans from note one.  The lead single from the forthcoming album, Parachute, "Brave", calls on believers to step up to challenges with courage and "be brave".  Take a listen to the single here: http://www.soundcloud.com/trenelsonmusic/brave.
Musically, Nelson provides a sacred alternative for new converts who have been used to hearing the songs of popular mainstream artists of the day. Those who have known the Lord for a while will also enjoy Nelson's fresh approach to the Gospel.  Clearly a storyteller, he recounts real life situations and brings a spiritual perspective to them.  Not skimping on production or songwriting, Tre Nelson has positioned himself as a new voice in Urban Contemporary Gospel music.
The son of two worship pastors and a member of Oak Cliff Bible Fellowship pastored by renowned preacher Dr. Tony Evans, Tre has always been surrounded by Gospel music, most of it more traditional in nature.  He says, "Thanks to my parents' music ministry, my tastes had always leaned toward Gospel music, but the secular music I had grown fond of in college changed my taste in musical style and sound. The secular songwriters, of course, lacked the biblical and positive lyrics that would speak truth and light. Though Contemporary Christian music and rap spoke a wonderful message, they lacked the sound and feel of the R&B, pop and neo soul music that I had grown to love.  I realized that the Christian music industry didn't really have the combination of sound and message that I was looking for so I sought to create it.  I thought, 'If I'm looking for this kind of music, maybe others are too.'"  That began a journey of creating music with modern sounds and God-centered lyrics.
His first foray in the world of recording came with the release of his debut, Not Ashamed, in 2010.  Videos from the release garnered 1.5 million views on YouTube.  His follow-up is the upcoming Parachute, a collection of moving tracks packaged in pop, R&B and urban stylings.  For more information on Tre Nelson, log on to www.TreNelson.com.