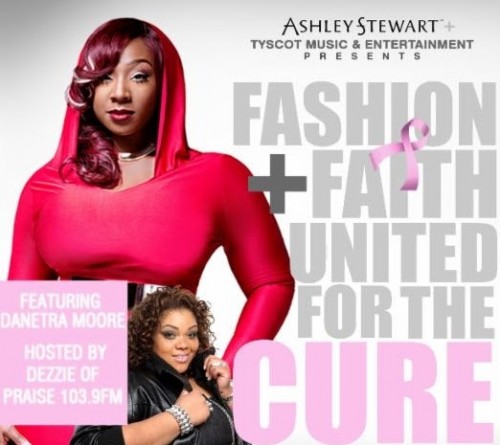 On October 11, Philadelphia residents will be able to party with a purpose during the Fashion and Faith United for the Cure event at the Ashley Stewart store, located at 101 E. Olney Avenue in Olney Plaza from 6-8:30 p.m. Hosted by Dezzie of Praise 103.9FM, guests to this unique girl's night out event will enjoy refreshments, entertainment by Tyscot artist, Danetra Moore (Sunday Best finalist), a Fall fashion show, giveaways and informative breast cancer awareness information provided by Praise is the Cure. The event is sponsored by Ashley Stewart, Inc. and Tyscot Music & Entertainment in honor of breast cancer awareness month.
"We are truly honored to be able to sponsor an event for such an important cause," says Bryant Scott, Tyscot Music & Entertainment president. "We all know someone who have been affected by breast cancer and we are excited to provide an unforgettable experience through one of our artist. Our prayer is that guests will walk away from the event better informed about this disease and encouraged through Danetra's music."
During the event, Moore will sing a few selections from her debut album, Light in the Dark. The album will be released in early 2015.
"This opportunity means so much to me," says Danetra Moore. "God has given me this gift to uplift and encourage people through my music. I hope that my music provides just that healing that they need."
In addition to the fashion and the fun, guests will receive breast cancer awareness information from 16-year survivor and founder of Praise is the Cure, Anita Conner. She will share her battle and testimony with breast cancer, along with literature on preventative measures. Praise is the Cure is a Philadelphia-based organization founded in 2006. Its mission is to provide breast cancer information and education for African American women and their families. Since its inception, the organization has reached more than 100,000 people.