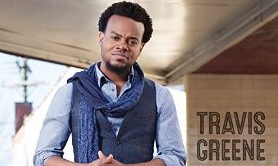 Gospel singer Travis Greene has released his debut EP on RCA Inspiration, titled INTENTIONAL, today. The 4 track EP includes the hit single "Intentional," a song that keeps climbing the gospel charts. The track is currently at #3 on Billboard's Hot Gospel Songs chart and holds the #6 spot on the Mediabase Gospel chart.
INTENTIONAL is being released in anticipation of Travis' debut album THE HILL, which is slated to be released in the fall on RCA Inspiration. THE HILL was recorded live in front of a packed house in his hometown of Charlotte, NC late last year.
In addition to the new EP, be sure to catch Travis performing on BET's Sunday Best Live Finale on Sunday, August 30th and at the New York Empowerment Summit on Saturday, September 5th.
ABOUT TRAVIS GREENE
For 31 year old singer/songwriter Travis Greene, destiny announced itself several times. Travis entered into this world with complications that threatened his survival. At the age of four, he was pronounced dead after falling four floors out of an apartment window in Germany. As his mother picked up the lifeless body of her child, she called on Jesus over-and-over, praying until he came back to life. These near fatal and precious testimonials of life preface the anointing of a young man destined to minister to the world. Growing up in a military family in various parts of the world, Travis used music as an outlet to overcome many heart-breaking and crucial life experiences. Through his own broad style of music and ministry, Travis accepts the personal challenge to continually unify the body of Christ as one. The passion that dwells in him allows him to use his gifts as an instrument to help, heal and bring positive change to the lives of God's people. Travis, his wife Jackie, and their son, David Jace, currently reside in Charlotte, North Carolina.
INTENTIONAL Track Listing
Intentional
Thank You For Being God
Made A Way
You Got Up
INTENTIONAL EP Retail Links
http://smarturl.it/IntentionalEP-I (iTunes)
http://smarturl.it/IntentionalEP-A (Amazon)
http://smarturl.it/IntentionalEP-G (Google Play)
http://smarturl.it/IntentionalEP-S (Spotify)
For more information on Travis Greene, please visit:
Website:   http://www.travisgreene.net/
Facebook: https://www.facebook.com/TravisGreeneLive
Twitter:   https://twitter.com/TGreeneStuff
Instagram: @TravisGreeneLive
YouTube: TravisGreeneLive