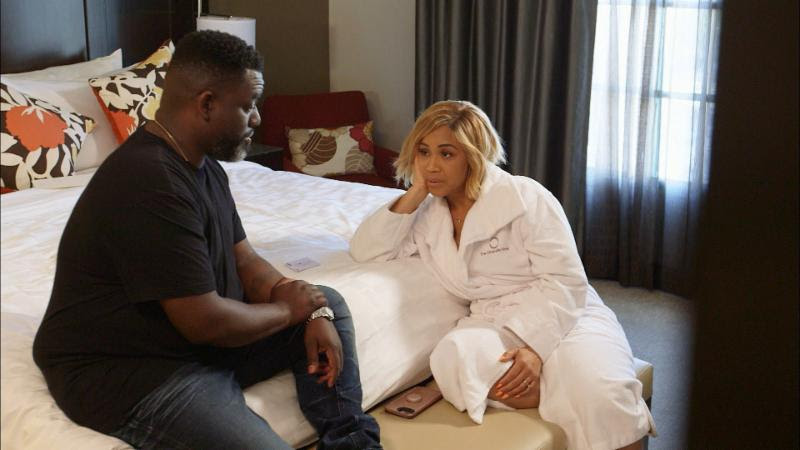 Erica performs at the Stellar Awards and heads home only to discover Warryn needs surgery. She is set to perform in North Carolina but after learning of Warryn's impending procedure she ponders canceling. At Warryn's request, Erica leaves him in the care of their three kids as he recovers so she can keep her commitment. But before she leaves, Misty informs Erica that Warryn has asked her to split her time as Erica's assistant to support his business too. This causes tempers to flair and Erica suggests an emergency "Love Check In" to get things back on track. Joi's frustration with Warryn grows as everything seems to stand in the way of her getting back into the studio to complete her latest project. And Goo begins fielding more job opportunities hot off the success of her Stellar Awards Glam Suite.
About "We're The Campbells"
The nine-episode docu-series gives viewers an intimate glimpse into the lives of Gospel entertainment power couple Warryn and Erica Campbell, as they tackle the everyday struggles that come with balancing family and work, nurturing their marriage, building their individual careers, and fostering their faith; all while raising their three children Warryn, Zaya and teenager Krista.
We're The Campbells is produced for TV One by Entertainment One (eOne). Executive Producers are Tara Long, Mark Herwick, Kim McCoy, Warryn Campbell and Erica Campbell; Co- Executive Producer is Narvin Russaw. For TVOne, Tia Smith is the Executive in charge and Sr. Director of Original Programming & Production; Donyell Kennedy McCollough is Sr. Director of Talent, and Robyn Greene Arrington is Interim Head of Original Programming and Production.
https://www.youtube.com/watch?v=7ceBzjYtkkE&feature=youtu.be