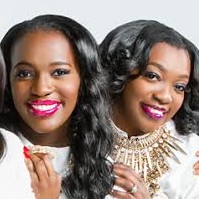 A vibrant and enormously gifted family group, The Showers have been wowing fans of Gospel music since the 2009 release of their independent album Hear My Prayer. On April 21, the group makes its national debut with its self-titled album distributed by Habbakkuk Music.
Featuring production by Grammy and Stellar award winners Deon Kipping, Myron Butler, Bruce Robinson, Jr. and many others, the brilliantly crafted album showcases The Showers' flawless, soulful harmonies and their deep ability to transform a lyric into a heart-melting crescendo. The Deon Kipping written and produced first single off of the album, "Better" feat. Canton Jones, is building every week at Gospel radio and this week breaks the Top-20.  "I am so honored to be part of this incredible song," says Jones. "What an awesome message delivered by an awesome family!"
The Showers participated in many of the Stellar Awards Weekend festivities in Las Vegas, including presenting at The Gospel Radio & Announcers Awards. They also hosted an intimate listening party attended by music industry influencers and artists. During the event April Chandler, president of Habakkuk Music, said "the album is very diverse and there's something on it for everyone… production was executed excellently." Jerry Smith of Radio One added that "the production is amazing…you can hear all of the vocalists in the harmonies…I love the chemistry of the group."
This Friday, The Showers will host a CD Release event at Greater St. Stephens Full Gospel Baptist Church in New Orleans, Louisiana. The event will feature performances from special guests including Forever Jones as well as The Showers. The group performs on New Orleans' WWL TV this Thursday morning.
THE SHOWERS can be pre-ordered now at iTunes and all digital providers, and will be available for purchase April 21.