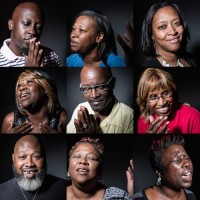 The Jones Family Singers, a popular Texas gospel group consisting in part of five sisters, two brothers and their father, will showcase their newest film, The Jones Family Will Make A Way and discuss the significance of musical evangelism during the International Faith & Family Film Festival at T.D. Jakes' MegaFest on Thursday, Aug. 20, 2015 at 1 p.m.
Following the film screening, the group will participate in a panel discussion, "Musical Evangelism in Film," with music impresarios Israel Houghton & New Breed and Kirk Whalum, moderated by journalist Jawn Murray. Israel & New Breed and the Jones Family Singers will also perform, followed by an intimate Q&A.
Underscoring universal themes of faith and perseverance, The Jones Family Will Make A Way premiered earlier this year at the SXSW festival. On Thurs., Aug. 20, attendees of MegaFest's International Faith & Family Film Festival will screen highlights of the powerful documentary, which explores the group's Gospel roots and chronicles their efforts to share their message with a broader audience without compromising their values.
"The Jones Family Will Make A Way is more than a documentary: it is a union of hearts. It works not only to capture the drive and ability of a dynamic Gospel band, but to immerse us into their lives," shared Truth on Cinema's co-editor Steven Jones. "Their passion, their sacrifice, even their moments of discouragement are all bared with style in this well-paced chronicle of a hidden gem on the path to discovery," Jones added.