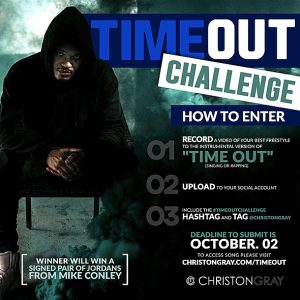 Chart topping rapper, singer, songwriter, and producer Christon Gray, has issued the #TimeOutChallenge, giving fans a chance to showcase their best artistic talents, freestyling over his newly-released anthem "Time Out."  Open now, fans can record videos creating their own anthem, by performing their own 16 bar verse or singing their own lyrics over Gray's instrumental track of "Time Out."  The instrumental track can be downloaded at https://www.christongray.com/timeout.
To enter the challenge, fans can post their video submissions on their social media accounts, using the hashtag #TimeOutChallenge and tagging @ChristonGray on their submissions.  The #TimeOutChallenge contest is open until October 2nd, and the contest winner will win a pair of Jordans signed by Memphis Grizzlies point guard Mike Conley.
Encouraging anyone facing challenges in life, on "Time Out" Christon Gray is providing powerful reminder to persevere and never call a time out, to keep rising to the challenge and never give up on yourself, on God, or on others.  "Time Out" is the latest song available from Christon Gray's upcoming album Clear The Heir, out October 19th.
Take on the #TimeOutChallenge, the time is now to make your voice heard. Visit https://www.christongray.com/timeout for full contest details.