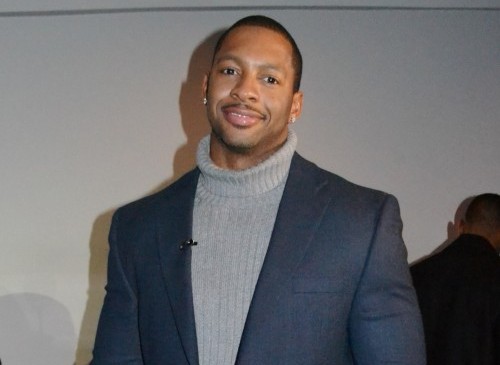 On February 4, 2015, WE tv premiered its new dating show, "Match Made In Heaven", staring real estate mogul and former college athlete, Shawn Bullard. For the show's premiere, Shawn hosted a viewing party in his hometown, Philadelphia, at renowned soul food restaurant, Ms. Tootsie's.
The night was full of laughs, amazing food and love, as Shawn was surrounded by some of his closest friends, family members and supporters, including his mom, Momma Maggie, who also stars on the show. After the show aired, Shawn stuck around to answer questions from the audience and take pictures with his fans. Check out the gallery below to see a few flicks from the event.
In each of the eight hour-long episodes, the bevy of beauties will face temptation at every turn. From the sweet girl next door to the smoking hot vixen; the polished career women to the innocent virgin; no one is immune to temptation. In this proverbial Garden of Eden, the ladies are constantly met with the opportunity to make a choice between good and evil in their quest for Shawn's love.
Should they undermine their fellow housemates to win him over? Or take the high road and trust in their connection with him?  Does "do unto others" have an alternate meaning? Will Shawn be tempted to take a bite of the forbidden fruit these women have to offer? Or will Pastor Ken and Mama Bullard be able to guide Shawn into the light so he can pick the right girl to spend the rest of his life with?
Produced for WE tv by Glassman Media with Andrew Glassman executive producing, and Gaspin Media with Jeff Gaspin executive producing. Lauren Gellert and Suzanne Murch also serve as the executive producers for WE tv.
For more on "Match Made In Heaven", visit www.wetv.com for sneak peeks, photo galleries, blogs, dating tips from Momma, and all the details on Shawn. You'll also find the weekly behind-the-scenes scoop and exclusive videos.
"Like" the "Match Made In Heaven" page on Facebook and follow @MMIH_WEtv on Twitter for the full insider experience.  Plus, after you watch the first episode, play along each week with the "Match Made In Heaven" and Win contest. Pick your favorite bachelorettes and earn points for your chance to win $5,000!
"Match Made In Heaven" airs every Wednesday at 8pm EST on WE tv!