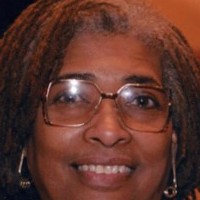 Marsha D. Sumner, a native Washingtonian and celebrated local gospel radio announcer for two decades, died on Saturday, January 24th after a brief illness. She was 69.
Sumner, who was born on April 20, 1945, attended DC public schools and graduated from Theodore Roosevelt Senior High School, where she excelled in sports and received an athletic scholarship to Tennessee A&I State University.  Marsha declined the offer saying:  "All they wanted me to do was run track and that rubbed me the wrong way." Alternatively, she started a career in government service, working at HUD and FEMA for 30 years in areas that included recovery work at natural disaster sites. "I felt like I had found my niche," she once said. "At the end of the day, I could always see that I had helped somebody."
"While she was traveling around the country covering earthquakes, hurricanes and floods for FEMA, I always told her she had a very distinct voice for radio," said her long-time friend and former media executive Portia Scott, who first met Sumner at a church they both attended in the  mid-1980s. "I encouraged her dream and the next thing I knew, she had a vocal coach, enrolled and graduated from the Columbia School of Broadcasting," Scott continued.
In the late 1980s, Sumner began to volunteer at the University of the District Columbia's radio station WDCU 90.1 FM. "She did that so she could be in the broadcasting environment and learn to work the boards," Scott adds. Before long, Sumner was hosting her own gospel music program at UDC on Sunday mornings during the 6 to 8 AM slot. She remained there for a decade until the station was sold to C-SPAN in 1997. Sumner then briefly worked for WWGB 1040 AM in Suitland, MD before she was hired by CBS Radio's WPGC Heaven 1580 AM, where she held down midday and overnight on-air positions for a dozen years.
Sumner used her radio platform to expand her mentoring and evangelistic ministry, focusing on youth in the DC metropolitan area. Some of her youth programs included organizing Youth in Praise Rallies that she called "Holy Ghost Throw Downs," which drew thousands of area kids.  She hosted "gospel nights" at various roller skating rinks and was also one of the first regional radio announcers who sought to include Christian rap in the traditional-styled gospel radio format. "I want them to come off the street and get this message while they [come together] and have fun," she told The Washington Post in a 1993 article.
"I was immediately drawn to Marsha's warm smile and quiet strength," Heaven 1580's former Program Director Matt Anderson said of Sumner in a recent Facebook posting. "She knew the DMV and they knew her. Everybody liked Marsha, in part, because of her contribution to the team. She was unique in her approach to radio and listening to her was like talking to an old friend." Sumner coined phrases during her broadcasts such as "stay close," "love you most much" and would often tell the listening audience to seek her out at station events so that she could "hug your neck." At Heaven 1580, Sumner interviewed some of the biggest names in gospel music such as Yolanda Adams, Candi Staton, Richard Smallwood and Israel Houghton, among others. Her favorite was CeCe Winans. "She has a sweet spirit and is always the same. Interviewing her was like a paycheck to me," she once said.
Heaven 1580 briefly flipped to a Christian Talk station where Sumner hosted a "Cross Talk-Urban Style" program for a few months in 2009. On this show she led discussions involving an array of public issues and said at the time, "Now I feel like I am helping people by keeping my community informed." After that station flipped again, Sumner chose to retire to her home in Silver Spring, MD. However, she continued to actively attend and participate in her evangelistic ministry as a member of the Ebenezer A.M.E. Church in Fort Washington, MD, along with maintaining a presence at various local gospel and community events.
Marsha Sumner's parents Hubert and Miriam Sumner and several aunts preceded her in death. She is survived by her loving brother Hubert Sumner III, several cousins, two goddaughters and a host of special friends.