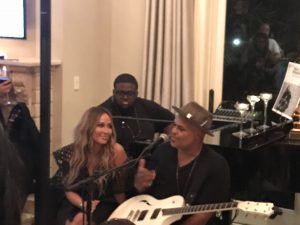 The forthcoming album, Road to Demaskus,  from 6 time Grammy Award winner and gospel great Israel Houghton, will be a gospel album to remember.  I had the pleasure to not just listen to the album but have Israel, a few band members and some of his friends (singer Amber Riley & wife Adrienne) perform the songs live in his home.   I arrived to the listening party, as i have for many other artist, very casually dressed around 6:45pm on a warm Friday night.  Ripped Jeans, a button down shirt with the sleeves rolled up and casual shoes I realized quickly that  i was completely under-dressed.  As i entered the home of Israel and his beautiful wife Adrienne I was immediately greeted with wonderful artwork, a spiral staircase and a warm and welcoming atmosphere.
The room was filled beautiful people, very well dressed and put together but still very relaxed and comfortable. Israel and Adrienne were both working the room (separately) to personally welcome their friends and guests to their home.  I would have never thought Adrienne, the host of a major talk show, The Real, would come by and ask if i was ok or wanted a glass of wine or anything but she did not just for me but  for a number of guests at the party.  So warm, gracious  and down to earth I was completely thankful for this experience.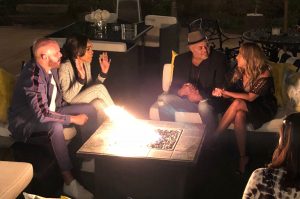 Then i noticed there were many celebrities  in attendance tonight among the other 75 guests like Erica and Warryn Campbell, Michelle Williams and her fiancee Chad Johnson, Amber Riley, soul singer Major and many more.  They were all mixing, talking, taking pictures at the picture booth and having a good time with people from every walk of life there were no celebrities demeanors in attendance. Even the catering company serving the food and beverages were as relaxed and  welcoming as the hosts were.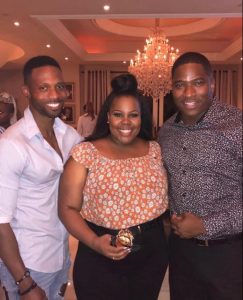 Israel's music is playing lightly in the background and i'm hearing a range of music from true worship songs, to raw pure acoustic songs along with radio friendly music. A few songs that immediately jumped out to me were: Easy For You, You Can Do it and Free Indeed even if those aren't the official tittles of the songs.  Still only expecting Israel to play tracks as other artists have he sets up his microphone near the grand piano, which is where his six Grammy Awards rest, and the other band members grab their instruments as Israel picks up his guitar and  begins to play songs from the Album.
There was an energy in the room that was unexplainable when i first arrived.  However, once the band began to play as Israel sang the spirit completely took over.  Everyone was in total worship and praise.  I realized that the reason why everyone is mixing regardless of ethnic background, social status, money or even religious beliefs is because Road to Demaskus is something for EVERYONE.  I do believe that this album will be appreciated for years to come.  The listening party was a complete experience and so is this album.  For the listener there will be moments of complete gratitude, repentance, celebration and call to action.   Israel and Adrienne have very pure and loving souls and this album reflects that as the couple sings a duet that is so beautiful that your heart can't help but cry out.  I look forward to seeing which tracks make the cut to be on the album and how this album through Israel's ministry will bless and change the world.