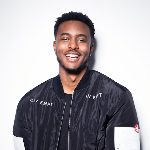 Reach Records' Hip Hop Recording Artist KB's last project "100" garnered him a Dove Award for "Rap/Hip-Hop Song of the Year," a No. 1 spot on Billboard's Christian Album Chart and No. 4 on Billboard's Rap Chart.  Since then, KB went touring the world and began creating what we now know as Tomorrow We Live, his sophomore album that drops April 21st.
Recorded in Atlanta, Tampa and as far as South Africa, KB partnered up with his production team 'Cobra' and the incredibly talented songwriter Natalie Lauren. He escaped to Capetown and developed 14 dynamic powerful hip hop tracks, addressing real-life issues such as suicide, family, love, society's look on women and more.
?With guest appearances by Lecrae and Group 1 Crew's Blanca, KB takes listeners on a journey through his day, breaking down the hours, the thoughts, the prayers and encourages others that battles happen everyday, but tomorrow is one that God made new, and we can live knowing that if He is for us, who can stand against us.