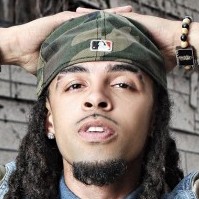 New Orleans based rapper, Dee-1 continues his mission to elevate the rap game with the digital release of his new single, "Against Us" (RCA Inspiration) available on October 14.  "Against Us" is the powerful first single from Dee-1's forthcoming EP, 3'S UP, scheduled for release at the top of the year.   In addition to releasing new music, Dee-1 scored a spot on this year's BET Hip Hop Award's Cypher.  Tune into the BET Hip Hop Awards, premiering Tuesday, October 14 at 8:00 p.m. ET/PT to see Dee-1 along with rappers Troy Ave, Detroit Che, Logic and Lil Mama deliver one of the best Cyphers of the evening.
"Against Us" is a game changing anthem that the world needs right now," said rapper Dee-1.  "It symbolizes the war against negativity.  Also, I've been blessed with so many dope opportunities…being a part of the Hip Hop Awards is one of them.  Moving forward, I'm extra motivated to be that best artist I can be."
Dee-1 will perform his mixtape favorites and new single, "Against Us," live at BET's Music Matters Showcase at SOB's in New York City also on Tuesday, October 14.  With a goal to educate and inspire a generation to achieve more, Dee-1 is regularly sought out to speak and perform for the youth.  Recognizing his influence, BET tapped Dee-1 to join this year's BET College Tour.  Remaining dates on the tour for Dee-1 include stops at Grambling State, Tuskegee University, Mississippi Valley State University, and Jackson State University.
BET College Tour Dates:
Friday, October 17—Grambling State—Grambling, LA
Wednesday, October 22—Tuskegee University—Tuskegee, AL
Wednesday, October 29—Mississippi Valley—Itta Bena, MS
Friday, October 31—Jackson State—Jackson, MS