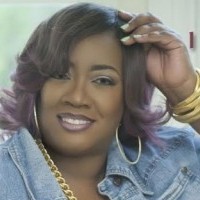 The unmatched tones and dynamic nuances of the sounds of Chicago, Detroit and Philadelphia collide with the remarkable new single by new unsigned artist, Terrie Rimson, entitled "I Was Created," an upbeat, feel good song reminiscent of an 80's Gospel groove with a 90's R&B/ Hip Hop twist. Written and produced by Donyea Goodman of Chicago, Illinois, "I Was Created" is an added piece to the puzzle of Terrie's musical journey as an artist. Rimson first hit the scene in January 2014 with her first single entitled "Zion," a classical piece with a rousing Pentecostal flavor. After 18 months of growing and developing as a solo artist, Terrie is back with a new sound and paints a new picture of Gospel Music with "I Was Created."
Terrie Rimson is a gifted and talented vocalist who is no stranger to the spotlight. She has been captivating audiences since the age of five. Her vocal training began in Philadelphia's Settlement Music School, then continued with Gospel greats such as the late Dr. Mattie Moss Clark, along with Grammy winner Twinkie Clark and musical aficionado Brandon Winbush (Background Vocalist for Patti LaBelle, Justin Bieber & The Kurt Carr Singers), who arranged the background vocals for "I Was Created."
After years of performing in stage-plays throughout New York City and singing background for Gospel music royalty such as the legendary Karen Clark Sheard, Kierra Sheard, Daryl Coley and others, Terrie finally comes from behind the scenes to center stage.
Since December 2014, Rimson continued to progress and evolved herself with the release of her own Reality Docu-Series entitled "ALL ABOUT TERRIE" which airs weekly on All Nations Television, Living Witness Television and Inspirational Faith Network. It's not all about just singing hymns and devotional songs to Terrie Rimson, it's about wisely producing music that can touch the lives of everyone.
"I Was Created" is available on ITunes, Amazon and ONLINE EVERYWHERE.