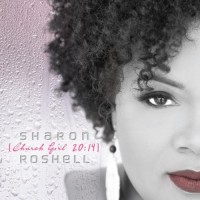 Sharon Roshell has been wowing Gospel music lovers in Louisville, Kentucky, and her hometown of Hope Mills, North Carolina for years now.  Gifted with an ability to convey heartfelt messages through God-breathed lyrics and powerful melodies, Sharon Roshell has a goal to touch the world.  A former Worship Leader with notable preacher Rod Parsley, she recently dropped her third CD, Church Girl20:14. Since the new release, she's been hitting the road debuting cuts from the new album.  Fans of Sharon Roshell will be able to see her perform live at events taking place in Las Vegas during Stellar Awards week, between Wednesday, March 25 – Friday, March 27, 2015.
On Thursday, March 26th, Sharon Roshell will be ministering at Uncle G Records, CEWC's "Worship Culture" & Ambiance Presents Stellar Awards Weekend Showcase Event taking place at 7:00PM at the Christian Embassy Worship Center (2020 Olympic Ave., Henderson).  On Friday, March 27th at 7:00PM, Sharon Roshell will be performing at Round The Clock Entertainment's Welcome Showcase & Live Industry Celebration at Hampton Inn & Suites Tropicana Event Center (4975 S. Dean Martin Drive, Las Vegas).  At the events the singer-songwriter will be showcasing tunes from the new project, Church Girl 20:14.
The CD's title tune, "The Church Girl Anthem", shares the artist's perspective on her church upbringing.  Proud of her Christian beliefs, Sharon Roshell sings about living by biblical standards, even in the face of ridicule.  As Sharon Roshell sings during the urban-tinged cut, "It's more than a set of rules to me; it's the way that I stay free."  Making the decision not to compromise, she encourages others to stand firm in their convictions as well.  Featuring rapper LaToria, Sharon Roshell released the video in early 2015.
Clearly, church has been a regular part of Sharon's life, from the very beginning.  With two music-loving parents, singing has always been a part of Sharon Roshell's life, too.  "I remember marching around the house behind my mother and singing along with her," shares the singer.  "Music was blasting from the record player constantly," she recalls.  Even as a child she found herself sharing her thoughts with God and basking in His presence regularly.  Later when she and her brother learned to play piano, her entire family hit the road and sang at churches, nursing homes, and in homes of the elderly and ill.  At the age of 13, she joined vocalists across the nation to sing at the renowned Carnegie Hall in New York City.  It was her first taste of what it was like to sing on stage.  It was then that she knew she wanted to sing for God.
Ultimately, she graduated from Valor Christian College with a Degree in Praise & Worship Leadership.  It was during this time that she joined Pastor Rod Parsley's praise and worship team, ministering nationwide with the renowned pastor.  She was bestowed with a medal of honor for her service to the ministry.  After moving to the East Coast, Sharon Roshell served as a worship leader for 7 years at Kingdom Life Church in Baltimore, Maryland.
She added the title "recording artist" to her resume with the 2005 release of her debut project, God Is Bigger.  That project was followed by Never Thirst Again in 2008.  A diverse collection of Christian music, Church Girl 20:14 showcases the psalmist's amazing songwriting skills and memorable vocal performances.  In addition to "The Church Girl Anthem", the project includes mesmerizing songs like "At The Cross", "Father of Glory" and "You Shall Reap".  The project is a highlight to a ministry that has seen the songstress open for artists like Hezekiah Walker, Fred Hammond and Smokie Norful.  She was also a member of the Gospel ensemble Todd Curry & Focus.  For more information on Sharon Roshell, visit www.SharonRoshell.com or connect with her on Facebook , Twitter (@SharonRoshell) and Instagram.