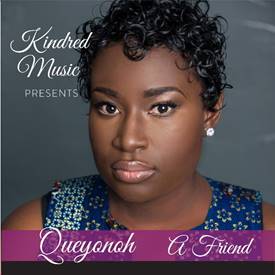 New Contemporary Gospel Artist Queyonoh (pronounced "Queena") has been singing most of her life, but in the beginning she was quite shy.  Knowing that she didn't sound quite like the popular artists of the day, initially she shunned the microphone.  It wasn't until she accepted her individuality and her God-given uniqueness that she launched into the Gospel music industry.  The result is a soul-infused collection of contemporary Gospel music showcasing a one of a kind alto voice giving unforgettable praise to God.  The CD,Tears 4 Fears, contains strains of R&B music, splashes of urban grooves and doses of Gospel inspiration.  The first release from the Kindred Music Group recording artist is "A Friend", which releases to Gospel radio on Tuesday, June 24th.
"A Friend", a beautiful song Queyonoh penned years ago, finds the artist singing about "having a friend in Jesus".  From note one, it's clear that this track is going to be a great musical experience.  Reminding the listener that we can always find a friend in Jesus, Queyonoh delivers a vocally inspiring performance on the urban-flavored ballad.  Her voice glides effortless behind an orchestral and sonically sweet track.
As principal songwriter on Tears 4 Fears, Queyonoh lays her soul bare; the project is her musical diary.  In the past, she suffered with moments of depression, bouts of low self-esteem, and a poor self-image.  Music was her road to liberation, helping to free her from feelings of despair, ultimately becoming a healing balm for her soul.  It was this cathartic process that birthed songs like the title cut, "Tears 4 Fears", penned after a divorce and "Silhouette", a song about the Holy Spirit's omnipresence in her life.
Queyonoh wants to inspire those who have struggled with self-image issues.  She understands that they can stop people from stepping into their callings. "Initially, I wasn't always comfortable with singing because I had a different sound," shares Queyonoh.  "I always had mature sounding voice and I would always stick out.  I wanted to have a clean, clear voice and be normal."  Eventually, she accepted who the Creator made her to be, let go of her fears and hit the studio to record her first release.
Hailing from Kansas City, Missouri, she began singing in the Galilee Missionary Baptist Church Children's Choir at the age of five.  It wasn't until she got her hands on music from Maranatha and Fred Hammond that the world of worship music opened up to her.  In the 6th grade, she penned her first song and hasn't stopped since.  As a psalmist, Queyonoh has performed alongside artists such as Alvin Slaughter, Asaph Ward, and Angelo and Veronica.
Although raised in the United States, her heritage is Liberian.  Queyonoh's parents were raised in the Motherland and her connection with Liberia was the reason she became a part of My Halo Project.  A mission-focused charity assisting orphans left behind in the former war torn country, My Halo Project was founded by Liberian refugees Fungbeh and Neyor Karmue and is headquartered in Jacksonville, Florida. Queyonoh has composed a song called "One Sound One Voice" as the charity's theme song. A portion of CD sales from Tears 4 Fears will be donated to My Halo Project.