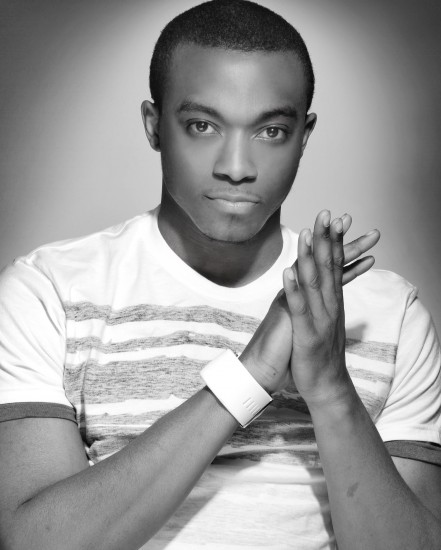 Jonathan McReynolds, 21, was born on the Southside of Chicago. At an early age Jonathan realized his love of music and began playing instruments at his church. He started on the drums, and then moved to the organ; however he never had a desire to sing. Fast forward a few years later to his high school days and we find Jonathan involved in everything from the Concert Choir to the school's Jazz Band and all in between. Thus realizing he had a yearning to sing all along.
Jonathan later went on to join Mind Over Matter, a singing group, and eventually assembled his own EP, The Very Unofficial EP. After a "freak accident", one of the songs from his personal collection found its way to the radio airwaves. Since then Jonathan has his full attention on representing and following Christ. His goal is to do work of the Kingdom and create good, transparent music.
Below is an interview between Jonathan and I, where we discuss his journey from playing drums in the church to putting the finishing touches on his upcoming, very official debut album.
uGospel.com: Where does your passion for Gospel music come from?
I had a passion for music as early as middle school. I loved playing the organ and drums around church as a little kid and in high school I began singing. It wasn't until college that I recognized the world we are living in for what it is: confused, lost, and moving in the wrong direction. The answer is God's love. The answer is Jesus. And I don't want to use my talent for any other movement than that one.

uGospel.com: Did you dream of becoming a singer when you were younger?
Not at all! I DEFIANTLY refused ANY offer to sing at least until about half way through high school. I loved playing piano but my ambitions were in science and law. Yeah…I was a nerd.

uGospel.com: When your family heard your unofficial album, what was their response?
They loved it! I think. My family from my neice to my aunt to my Uncle D knows every word…even the songs that I would NEVER release.

uGospel.com: How was the group, Mind Over Matter formed?
The group was formed and established WELL before I ever got in, but from my understanding it was pretty random. They had to form an impromptu group for a special church program. A lady at their church named them; probably never realizing that so much would follow! One Sunday, a school friend asked me to sing at her church–THEIR CHURCH! They wanted a new member and they got it! Me! Great men of God!
uGospel.com: Do you know how Pastor John Hannah got his hands on your music?
My life is full of "freak accidents" where I KNOW it was all GOD that made it happen. I believe that Corey Barksdale, my friend and co-writer on "Why," played some of my music for his pastor, Pastor Sean McMillan who happened to work out at the same gym as Pastor Hannah. Pastor Sean was playing it while he exercised and Pastor Hannah asked about it.

uGospel.com: What was your reaction to hearing your song on the radio?
Well it took a while for me to actually hear it for myself, but the first day I heard "No Gray" on Sunday morning, it was a little surreal. I had other people in the car, so I had to play it cool a little bit…but man…God is so good.
uGospel.com: What separates you from other artists?
It is difficult to not run into clichés when answering this question. I believe that in an AMAZING genre with lots of CHURCH music, Sunday music, I'm creating some Monday through Saturday music…life music.
God is such a PERFECT God, it's hard not to imagine a PERFECT life of praise songs and shoutin' music. But we KNOW it is far from perfect. It's tough. Full of persecution, temptation, identity issues…full of days that we don't FEEL like what we ARE: SAVED.
I always want my music to confront the ups and downs, joys, daily resolutions, mistakes, etc. of actually LIVING this lifestyle that most of the world now thinks is crazy and unnecessary. It's got to be genuine and transparent. It's got to be current. And it's less about the music or style and more about the message…which kind of creates its own style.
uGospel.com: If you could collaborate with anyone in the world for a song, who would it be?
Everyone knows I hold up India.Arie and John Mayer as my favorites but in his prime no one was more unique, musically adventurous, and gifted as Stevie Wonder.

uGospel.com: Name some Gospel artists in the industry that inspire you and tell us why?
Kim Burrell and JMoss are so musically gifted and they inspire excellence in everything they do. Cece Winans is Cece Winans. She has bridged several gaps and knocked down several walls for Christian music. Kirk Franklin has always maintained a high standard of transparency in his lyrics. There are so many! Canton Jones is a trail blazer, Mali Music is doing it; Kevin Gray, Todd Dulaney, Anita Wilson from the Chi are all doing it and I look up to them like big brothers and sisters.

uGospel.com: In your opinion, which genre of Gospel music does your music fit into? (Such as contemporary, tradition, urban, etc…) And why?
To be honest I'm not completely sure what those terms really do for the music. It's Christian music. I'll let someone else figure out what marketing term to give it. To me it's everybody's music just like God is everybody's God. That being said, I guess I would lean to urban but I'm nowhere close to convinced.

uGospel.com: Tell us about "The Very Unofficial EP of Jonathan Reynolds" and how it was created.
The EP was a collection of a few songs God gave me to write and produce in my dorm room. I was a full time student and singing with Mind Over Matter so my own music was not a top priority but I enjoyed doing it. I had no idea what God was prepping me for. It has that name because it was originally intended to be gifts for several of my family members (since I didn't have enough to BUY everyone a gift). I recorded a personal message to each of them as the first track. THAT was where my expectations for the EP were. God had other plans.

uGospel.com: What is your favorite song on your current project?
Lovin' Me…It's really my most personal song and I think one of the best written songs on the EP too.
uGospel.com: Which song is your favorite to perform and why?
No Gray! So much freedom in that song for me to reinterpret, add, subtract, or completely change based on the audience and the atmosphere.

uGospel.com: Do you have a target audience for your music? If so, who?
College age people and just younger and just older than that. I want my music to reach everyone, but that period in my life for me really defined what kind of man I want to be and what kind of walk I want to have. It is during those years you HAVE to grow up.
uGospel.com: What's next for Jonathan McReynolds?
"If Jesus goes with me, I'll go anywhere." I will continue to travel and let people get to know me and my music. My FULL album, the completion of the EP, is in the works and very close to being released! I can't wait for that.

uGospel.com: How can your fans stay in contact with you?
Get first word on everything by going to JonathanMcReynolds.com. Plus, of course you can find me on Twitter (jonmcmuzik) & Facebook (facebook.com/jmcreynoldsmusic).