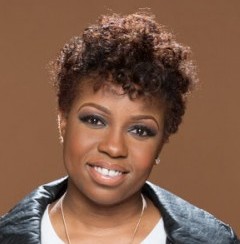 New artist Casey. J took the platform just days before the memorial service of Michael Brown and told the congregation during this time of injustice and pain "Our prayer needs to be that God will fill us up with his spirit." Casey. J's emotionally driven radio single"Fill Me Up" has become an anthem and is taking the faith based arena by storm.
This rising Christian new artist continues to climb Billboard's Hot Gospel Songs Chart landing at #23 this week and continues to rise. The buzz surrounding her single have been praised by radio personalities and movers and shakers. Imparting a recipe of powerhouse vocals and heartfelt narratives of praise, Casey J's musical offerings are seasoned with her own flair of Contemporary Gospel.
She was recently featured on the Yolanda Adams Morning Show and will perform her single on the upcoming 34th season of BET's Bobby Jones Gospel. "Fill Me Up" is available now at all digital outlets.