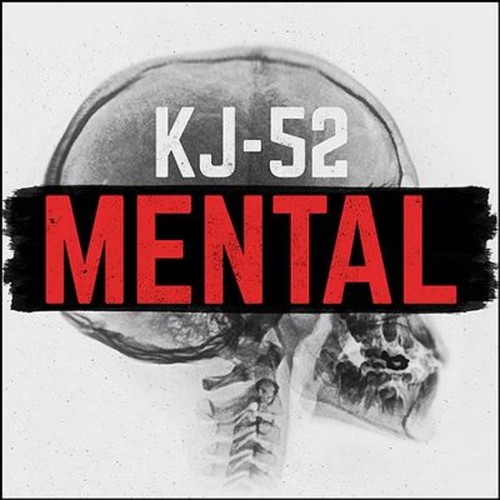 Six-time Dove Award winning Christian rap/hip-hop artist, KJ-52 will unveil his new album, MENTAL on October 21, 2014. His first release in over two years, MENTAL kicks off strong with the debut single GAMEFACE quickly climbing to the top of the charts at CHR radio outlets, as well as the song TONIGHT being tapped as a theme song for ESPN's acclaimed Monday Night Football, kicking off this weekend.
KJ-52 released his debut project in 2000 and has continued to do his "thing", releasing seven projects over his fourteen-year career. Three of these titles have scanned over 100,000 units, giving him the elite status of being the only Christian hip-hop artist to achieve that honor. With total combined sales of over 700,000 records, KJ-52 has become one of the most trusted names in the genre as a songwriter, producer, and role model artist.  His eighth album, MENTAL will be released through the Paradigm Collective and distributed by Central South and Gotee Records digitally.
MENTAL presents positive ideas from a guy whose faith has given him a sound mind that's clearly focused on better days ahead.  Produced by Soul Glow Activatur (AKA Solomon Olds – FF5, David Crowder Band, Andy Mineo, Lecrae) and KJ-52, the MENTAL album features guest appearances by an all-star cast, including Lecrae, Propaganda, FLAME, Social Club, SPZRKT, Tedashi, KBand Soul Glow Activatur.
But beyond all the hype and the all-star cast, MENTAL has a message deeper than many may expect.  KJ explains, "My hope is that through MENTAL people will understand that there is calm in the midst of the chaos. More than anything, we need to renew our minds, set them on that Higher Power.
"Our world is broken. It's gone mental," he concludes. "But there's still hope for us all. We can get our minds healthy and renewed, we can help each other out, and we can seek God for the next steps in life."
KJ-52 also has also entered a new partnership that focuses on his live show.  By joining forces the GOA (Greg Oliver Agency), KJ-52's tours will be honed to best showcase not only his natural energy, but to express his passions with the launch of The Mental Street Party.
"We are extremely excited to be representing KJ-52. He has a great reputation and is loved by not only fans but well respected by the music industry. His new record MENTAL, I believe, is going to propel him to the next level in his career and ministry," says Greg Oliver, Founder and President of GOA.
The Mental Street Party Release Nights will partner with radio and handpicked Christian Universities and Clubs throughout the fall of 2014. Kicking off in Seattle WA, and wrapping at NYU, the tour will have unique exclusive Google hangout sessions with KJ and his collective of friends and artists that have come together with him to create this project and tour. These hangouts will include KB, SOUL GLOW ACTIVATUR, TEDASHI, SOCIAL CLUB, PROPAGANDA, LECRAE and many more.
The exciting live events and online community connections are all a call to action, giving young adults the opportunity to come together to connect around social and mental health issues in a open forum with KJ and his collaborators to talk about the social issues young people are directly faced with and giving practical resources and direction to be able to maintain a healthy mental approach to life.  The Mental Society Google Hangout nights will be exclusively hosted by Jam the Hype Network.
KJ is also creating the opportunity for youth in this country to help raise resources for young adults in the Dominican Republic around a #The Mental Clean Water initiative launched early this year by KJ and FFH.