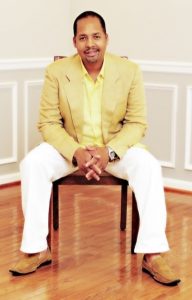 Washington, DC-based award-winning artist Michael White has written hit songs that are sung by choirs, worship teams, and Billboard charting Gospel artists.  He is one of Gospel music's most prolific songwriters who has two albums to his credit – SING OVER ME (2016), and CONQUEROR (2006).  In addition, he released his first Christmas album last year.
Even though 2020 has been a challenging year and we embark upon a holiday season that could hinder family gatherings and Christmas events, Michael offers THE SAVIOR IS HERE Christmas album to encourage everyone through the remainder of the year.
Michael's Christmas album includes the original version of his widely popular "Bless The Name Of Jesus".   This hit song has been recorded by Earl Bynum and The Mount Unity Choir and Alexis Speight.  His 2020 holiday Gospel radio single from THE SAVIOR IS HERE album is the festive praise anthem "Rejoice".
"Rejoice celebrates Jesus as King and points us to the formula for joy and peace during these trying times," Michael says.  "God's word declares that we should rejoice always and stay in constant communication with Him. That's how we'll make it. Let's join the angels and celebrate Jesus the King!"
Michael collaborated with an elite team of musicians and producers for THE SAVIOR IS HERE. The album is produced by Kevin Kelley (VaShawn Mitchell, Bishop Paul Morton, Donnie McClurkin, Prince of Peace Church), award-winning musician Trent Phillips (Tasha Cobbs Leonard, Full Gospel BC Choir, Donnie McClurkin, Kevin Lemons) and musician Redman Caldwell.  Michael's wife and children provide vocals on the album giving the 10-song collection a warm and family-inspired touch.
"My family performing with me on this record was designed to bring the listener directly into the fun and love we share in our living room and kitchen during the holidays," Michael explains.  "This Christmas holiday will be unique from any that we have ever experienced. Finding peace is a conversation away. Turn your hearts fully to Jesus at let him be your source of joy and strength. I am praying for everyone! Have a Merry Christmas!"
THE SAVIOR IS HERE album has a companion songbook for music directors, musicians, and worship leaders.  The songbook and CD are available on www.MichaelWhiteMusic.com.  The album is available now on all digital music and streaming outlets.