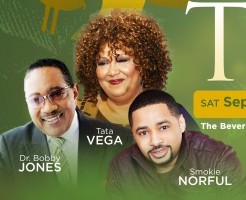 Focus Newspaper is pleased to announce the 17th annual "First Ladies High Tea" at the Beverly Hilton Hotel on Saturday, September 13, 2014 from 12 noon to 3:00 pm.   This year's event is co-hosted by Gospel Legend Dr. Bobby Jones and Dr. Beverly "Bam" Crawford, pastor of Bible Enrichment Fellowship International Church. Tony and Emmy Award winner Cicely Tyson will receive the Legacy Award. Other celebrities to be honored include actress Gugu Mbatha-Raw (best known for her role in "Belle"), who will receive the Spirit Award, actress Alley Mills of The Bold and the Beautiful, receiving the Shining Star Award and music executive Vicki Mack Lataillade, who will receive the Focus Award. Grammy winning recording artist Smokie Norful and Grammy-nominated artist, Tata Vega are the featured performers.
The event will honor women and First Ladies who have served the communities well, through their activism and charitable contributions. The First Lady Honorees include: Myesha Chaney; Antioch Church of Long Beach, Isabelle Drake, Greater Ebenezer Baptist Church and Debra Williams, McCoy Memorial Baptist Church.
"'The First Ladies High Tea' was conceived in 1997 to celebrate and embrace the role first ladies and women in the church play in providing services to the community and shaping the lives of young girls and youth," explains Publisher Lisa Collins. "So often the work that they do goes overlooked and we wanted to change that and provide a forum to recognize them for all that they do and all that they are to us."
Other notable presenters and special guests include County Supervisor Mark Ridley-Thomas, U.S. Representative Karen Bass, L.A. City Councilmember Curren Price, Senator Holly Mitchell and others.
This year's essay theme, "The Power of Choice," received sponsored submissions by young women ages 15 to 18. The Grand Prize winner will officially be announced and presented with the $1500 cash prize.
The Afternoon Tea event will host 1000 plus attendees and will serve a traditional Afternoon Tea Menu.