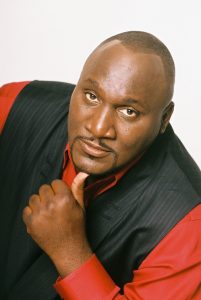 First Release Angela Barrow Dunlap's Church Girl Taping Live in Detroit, Tuesday, May 10-11, 2011 with Robin Givens At Dr. M.L.King Jr. High School in Detroit from 10 a.m. to 10 p.m. both days
What do you get when Gospel Music's leading multi-media, marketing and distribution mogul, Kerry Douglas – founder of Blacksmoke Music, Gospel Truth Magazine and The New Deal Entertainment University, teams up with the Leading Lady of Urban Theatre, Angela Barrow Dunlap?  You get the nation's leading Gospel stage play, "Church Girl," on DVD and made available to millions everywhere.
Kerry Douglas has been a leader in the Gospel Music industry for more than 15 years and is known as the new artist breaker.  Through his grass-roots-turned-multi-media-marketing techniques, Douglas has broken many of today's top Gospel recording artist such as James Fortune, Earnest Pugh, Keith "Wonderboy" Johnson, Jimmy Hicks and Evelyn Turrentine-Agee, just to name a few.
As a co-founder of Urban Theatre, working along the side of Michael Matthews (Mama I'm Sorry) and Shelly Garrett (The Barber Shop), Angela Barrow Dunlap has been an ongoing phenomenon for over 25 years.  Angela has covered the entire gambit of Urban Theatre from acting to tour management as well as production, directing and playwright.  "We literally had to invent this genre," Angela reminisces.  "There was no training or classes for this type of theatre.  We had to invent and learn all at the same time."
Angela's transition from actor to director, producer and playwright is rooted in her love for God's people and bringing the Word through stage plays.  "I was not a singer, but I was a good actress, and you had to be a singer in order to work in Urban Theatre in the early days.  But I knew I had a calling to minister in this genre so I learned to make myself indispensable by taking on every challenge that presented itself," says Angela.
Angela's hard work and dedication can be seen in her many successful collaborations including "Church Girl", "Why Do Good Girls Like Bad Boyz", "If These Hips Could Talk" and "Real Men Pray".  Angela uniquely approaches difficult topics with a realism that clearly demonstrates our need for Christ's mercy without offending believers.   "We want to reach young ladies who are in situations that only Christ can deliver them from.  We interview girls who were working in strip clubs and in other forms of adult entertainment and then we prayed about it.  Ultimately we knew we needed to tell the truth so that we can save souls for Jesus Christ," Angela explains.
Recently Douglas introduced The New Deal Entertainment University as a means to teach his unique brand of multi-media marketing theory in today's digital market place to aspiring Gospel recording artists and label executives.  "I want to teach industry professionals not just by passing on text-book and/or online courses, but I want to also practice what I preach by walking-the-walk," states Douglas.  "It's not just enough to promote records, but you have to cross promote in television, the internet and film – DVD and in theatres.  Teaming up with Angela Dunlap to bring "Church Girl-The Play" to theatres and home DVD is the perfect launch for Blacksmoke Films."