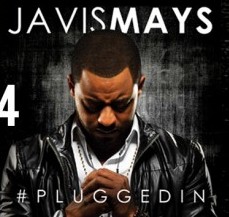 One of the most influential young voices in today's modern Christian and Gospel music, Javis Mays is proud to announce the release of his highly anticipated album, #PLUGGEDIN. The album is a fresh, soul-stirring, explosive full length CD with a vision to impact and inspire believers to develop a deeper intimacy with God and to get plugged in. You can find that vision being shown in several songs he has written. His songs are written from a personal one on one intimacy level to God. You will find this style of worship displayed in his style of praise and worship. Javis' single Grace speaks to hope, power, love and grace. Grace is a song of worship and meditation that reminds us of the need for connection with God for direction, wisdom, and strength.
Javis serves as a minister of music for the Saint Mark AME church and is said to be an extraordinary praise and worship leader who uses innovative methods of praise and worship to leads congregants into a worship experience that ignites a passion and desire to chase after the more of God. As he serves as a worship leader, he also trains and develops other worship leaders and church praise teams around the Orlando and surrounding areas. In 2014, Javis was named The Minister of Music of The Gospel Heritage Praise and Worship Conference. God continues to always open doors!
In the spring of 2014, the Gospel division of The Dream Label Group publically announced the signing of the Florida based worship leader to its growing roster. He is set to release his debut album through Dream Gospel Fall of 2014.
"Being embraced and signed to Dream Gospel is really a dream come true" says Javis, "It offers a level of validation, and will allow the ministry of music God placed in me to be heard by the world. I am so excited to have joined this team, and I look forward to building this relationship with dream and make God proud as to what we can accomplish together." Through all the open doors and continued opportunities he doesn't take for granted each time he gets to share his gift to the world. "I will bless the lord at all times and his praise will forever be in mouth" says Javis Mays.
Take a listen to his debut single, "Grace": https://www.youtube.com/watch?v=kf4V0ka2pc4
Order #PluggedIN:
https://itunes.apple.com/us/album/pluggedin/id921001512?uo=4&at=1l3vop6&ct=JAVIS or text "JAVIS" to 51555 and Dream Gospel will text you the album.