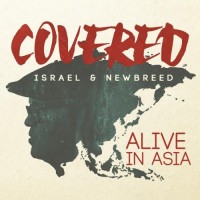 Last October, Multi Grammy®, Stellar and Dove Award winning gospel recording artist, Israel Houghton and his longtime ensemble New Breed traveled far east to spread the gospel of Jesus Christ while recording their highly anticipated new album COVERED: ALIVE IN ASIA (RGM/NewBreed/RCA Inspiration). Recorded across Asia in stadiums located in Jakarta, Indonesia, Kuala Lumpur, Seoul, Korea, Tokyo and Manila the remarkable worship experience birthed 13 new tracks and will be available on Friday, July 24. Pre-order COVERED: ALIVE IN ASIA today and instantly receive "In Jesus Name" and "Already Done" featuring Jonathan McReynolds.
"This project is certainly the largest, as far as scale, that we've ever embarked upon" said Israel Houghton. "I'm grateful to our New Breed movement for always being willing to dream big and take action around this vision. I feel it's our best offering to date… Gospel is good news- Good News is global. Global Gospel, Kingdom Music is our passion."
Featuring production from Aaron Lindsey, Covered: Alive in Asia will mark Israel Houghton & NewBreed's 10th album together and 15th year anniversary as a group. The project features a 90 minute concert film, a 16 track deluxe version and a limited edition CD/DVD combo pack that includes 13 tracks, an intimate behind-the-scenes look at the recording process and footage of some of the most beautiful and exotic cities in Asia.
COVERED: ALIVE IN ASIA Track List?
Intro (Kau Rajaku)
Thank you Lord
Risen
My Strength
Chasing Me Down featuring Tye Tribbett
Our God Reigns Forever featuring BJ Putnam
In Jesus Name
One Thing Remains
Covered
Breathe Your Name
Already Done featuring Jonathan McReynolds
First Loved Me
How Awesome Is Our God featuring Yolanda Adams
COVERED: ALIVE IN ASIA DELUXE Track List?
Intro (Kau Rajaku)
Thank you Lord
Risen
My Strength
Chasing Me Down featuring Tye Tribbett
Our God Reigns Forever featuring BJ Putnam
In Jesus Name
I Will Live
One Thing Remains
Covered
Breathe Your Name
Already Done featuring Jonathan McReynolds
First Loved Me
I Am Loved
How Awesome Is Our God featuring Yolanda Adams
Mighty To Save