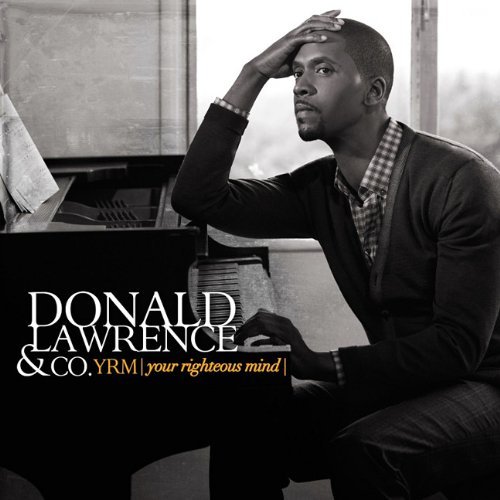 Donald Lawrence, gives uGospel.com a piece of his Righteous Mind for a long awaited, exclusive interview. Lawrence talks about the inner workings of his mind, as it relates to marketing, listening to the Word and remaining relevant after two decades. Lawrence goes in depth to discuss his inspiration for the content in songs on his new album, YRM (Your Righteous Mind), which debuted at #1 on Billboards Top Gospel Albums Chart. He also shares his humble reaction to having fans, the reasoning behind the Tri City Singers' distinctive look in the 90s and what it was like to work with one of his favorite artists, former Commissioned member, Keith Staten. Donald Lawrence, the Legend, has returned and doesn't plan on going anywhere, any time soon.
uGsopel.com: How are you doing today Donald?
Lawrence: I'm good. How are you sir?
uGsopel.com: I'm doing good as well. So Donald, you have set the standard for excellence in the gospel music field over the last two decades with signature #1 radio smashes such as Back 2 Eden, Encourage Yourself, and The Blessing of Abraham which spent 18 weeks at #1. Where does your passion to create amazing music come from?
Lawrence: Well, my passion and inspiration especially for the last 7 or 8 years has definitely been, of course always at the top of it is God, but from my pastor, Pastor Bill Winston. He inspires me a lot. I'm inspired to write a lot of songs like that from just being at bible study and being at church. He might say something that strikes a chord with me and it just becomes a song eventually. I would say a lot of scripture, but a lot of scripture being used as a life tool. Really to live by daily, to show you how to live your life based on scripture. Those things really inspire me, I find the bible fascinating.
uGsopel.com: Yesterday while I was preparing for this interview, I told my mom that I would be interviewing you today. Apparently a die-hard fan, she had the equivalent of a heart attack as far as excitement goes. She even broke into a medley of your songs. How does it feel to have that kind of effect on your fans?
Lawrence: Oh really? (Laughs) You know what I really am… (Pauses) I'm sometimes surprised that I have fans, because I've always been such a fan of so many people out there that are so much better than I am. So when people say that they are my fan, just the fact that I've gotten to fan status, it still kind of catches me off guard. I've been doing this for a minute but I guess I'm such a workaholic that I get into the work so much.
I produce so many people's albums I even forget about really being an artist. I'm probably a songwriter/producer first way more than I am an artist. I think more of just getting the work done and making sure it's great work. I don't even think about the fan part of it, but when I do hear it I am always surprised. I'm like, "You like my music like that?" I'm just very regular, you know? It's flattering but at the same time I tend to forget about it actually.
uGsopel.com: Many recording artist dream of having the success and longevity that you have experienced in your career. How do you manage to stay relevant after two decades of making music?
Lawrence: You know it's funny you say that, I was just thinking about that the other day. I guess it's a blessing to still be relevant 20 years later. The only way I can tell you, and this might sound really crazy, but the only way I stay relevant is I listen. I think that listening is really the key to being relevant. I don't think it's seeing, I think it's listening, really listening to what's going on and telling people what they need to hear. I think if you really focus more on content and what you're saying, it will always keep you relevant. If you speak relevant content, no matter how old you are, you're going to be relevant. Sometimes, if you chase trends you may not be as relevant because you're guessing.
uGsopel.com: Earlier in your career, you were the front man for the Grammy-nominated Tri-City Singers choir before they retired. Was the transition from performing in a group to becoming a solo act difficult?
Lawrence: I still kind of am a group because I have 10 singers with me, so it wasn't hard; it wasn't really a hard transition. The hardest part is to retire something you have spent about 12 years with. So that was probably the hardest pain because we really got on that journey around '93 and I retired them around 2005. It was a long time, it was a great choir. God really gave me the best choir for me, to sing the Donald Lawrence music, and for the Donald Lawrence brand. But I also understand timing and I just know when it's time to transition. They're all out doing some amazing things and I know that particular time was the right time to do it.
uGsopel.com: In 1993 you released A Song Writer's Point of View. During that era your choir stood out among other Gospel choirs visually by wearing the Afro-centric garbs. What did dressing in that attire represent for you at that time?
Lawrence: See it really was me being… (Pauses) You know I'm kind of a marketing thinker as well. So it was like, "How do we come out and be a new choir but find our own space, our own road and our own sound?" Really, just where, when they hear it they say it sounds like Donald Lawrence & Tri City.
At that particular time you already had John P. Kee, who was already branded, you had The Tommies, who were branded, you had The Whistle Company, who was branded and even New G was branded, that was their early stages then, but they had an album out. So it was me thinking, "How do I do a new choir with so many choirs already out? How do we find our own lane for ourselves?" So as much as it looks Afro-centric, I really got the idea of our look from Soul ll Soul. They were a very urban, kind of edgy group at that particular time, an R&B group.
That's really the idea of their look. It was more of a London based kind of look, which is still kind of Afro-centric. But I really, really got the idea of what to do with them because I watched how Jazzie B. would be with his ladies. They would have on garbs and head wraps, of course that turned into the Erykah Badu, and the Jill Scott and that whole very European Afro-centric look. That's where I got that idea from; I thought it would be timeless, like it would never get old. That's always been my road to make something creative, to make something that's timeless. When you look back at it, even though its 20 years ago, it could still fit now if you did it.
uGsopel.com: On YRM you blend the classicism of traditional gospel music and retro soul grooves with uplifting, messages of self affirmation and daily how-to-faith lessons. But, what is the actual meaning behind the title, YRM?
Lawrence: Well, Your Righteous Mind. Let this mind that is in Christ Jesus be in you. See, Christ understood that he was a spiritual being in a natural world. So therefore the things that he did, he operated from a different realm in order to make them happen in the natural realm. I'm saying all that to say we have a righteous mind.
Even if you were to scientifically look at your brain, they would tell you that your logical side is your left brain. But your side that relies on faith and meditation is the right side of your brain. That's even in science. I say it's ironic to that your right brain would hold faith and meditation. That lets you know there's something about having a RIGHTeous mind. I think a righteous mind really sees the invisible. It believes in faith, it realizes that faith is the "not-seen". It realizes that you don't look at what's around, you speak into it. Then you can accomplish things. It also guards its ears so that doubt doesn't make you doubt the things that you hear or the things you say don't cause you to bring bad things upon you.
I think once you get your mind in the mindset, it's about the renewing of our mind by the Word. And we get the Word from our preachers. All of that stuff is what I'm speaking about in Your Righteous Mind. Just letting everybody know, renew our mind everyday by the word of the Lord. There's always a scripture that can get you through any situation. I'm not talking about being super deep or super religious, but if you feel like you're having problems at work just speak "No weapon formed against me shall prosper" that day. You just let that resonate with you and take on any challenge that happens to you. The Word has living tools for us to get through whatever it is, without it being "churchified".
uGsopel.com: On the album, you did a cover of Walter Hawkins' "When the battle is over". With him being a musical influence of yours, was this a way for you to pay homage to the late great singer? And why did you choose that specific song to cover?
Lawrence: It was like a tribute to him. I wanted to do that on this particular record. We were good friends, we spent a lot of fun times together just out eating and laughing and talking and just enjoying life. So I miss him dearly, it's definitely a painful place and still is a place that's healing. But, it was good, I enjoyed my time with him.
He had so many songs, but I chose that song to open the Verizon Tour, "How Sweet the Sound" and I liked the way the arrangements came out. So I felt it would be good to put it on my album, that's why I did it.
uGsopel.com: On YRM you also did a cover of "Strange Land" which was originally recorded by the groundbreaking gospel band Commissioned. And the exciting thing about that is you actually recruited former Commissioned member Keith Staten to lead his original part on the song. Tell us about that experience.
Lawrence: It was wonderful. Keith Staten was one of my favorites, he just was. So, I hunted him down and was like, "Do you want to do this?" and he was like, "I would love to," so I got him in. I think his voice sounds just like he never stopped. To get a great vocal out of him and make it feel really good, but still kind of put a 2011 twist on it, but at the same time feel like it was done in the 80s. That's always a goal of mine to not lose the feel of something great, because they made that song great.
So to come back and do it, you need to do it either as well as them, or better than them. I don't know if you can do it better than them but I would at least like to try to feel like I got in that area code. You know, of doing a great job with it. And Michael Brooks, who wrote the song, I let him hear it and he said, "It just amazes me how you can bring something up to date but never lose the heart of what we originally cut." So he loved it and when I got his blessings I was good.
uGsopel.com: "Second Wind" another song on YRM is a mid-tempo, acoustic guitar driven song that has a Christian pop sound. Tell us about the message behind the song and what inspired it.
Lawrence: Yeah, a lot of songs that I do, especially with me and a group, are normally inspired a lot from when I'm in church listening to a preacher, who has very great revelations or great depth. I was at a church here in Chicago, Pastor John Hannah, that particular Sunday was a Sunday I went to his church; I didn't go to my church. And he was speaking about Caleb and he was talking about how God honors his word even if it's years later. And the story about Caleb was that God made him a promise and he didn't fulfill a promise until 45 years later.
The one thing is sometimes when we have a promise that we know, after its taking a long time for it to be fulfilled, you start doubting him. You also start thinking "God I'm just too old now, why didn't you do this when I was young and was at my best?" The thing about that story that really inspired me was that 45 years later Caleb was just as strong as he was when God first made the promise. He could still operate at the same level. So that lets me know that God gave us faith to replace time.
You can take time out of anything and you will be just as relevant 45 years later as you were when he first made the promise, if you take time out of it and let time be a factor. You just say "Whenever it's my time, I know what I got to say is what's needed at that time" and that's it. Don't worry about your age, don't worry about how long it's been, don't worry about it sounding old or dated or you being dated. You just worry about "This is what I'm supposed to say at this particular time" and that's it.
So that song is about second wind, he said "I blew breath in you before and I'll do it again I'm God and I'm giving you a second wind." So I tell people take a breath and get ready to go on your new journey.
uGsopel.com: How can fans stay in contact with you?
Lawrence: I'm on Twitter @DonaldLawrence, I'm on Facebook, or they can go to DonaldLawrence.com.
uGsopel.com: Is there anything else you want to say to your fans before you go?
Lawrence: Oh no, I think we've said quite enough. (Laughs)
uGospel.com: Ok, Take care.
Lawrence: You too.
Interview by Mike Jones for uGospel.com