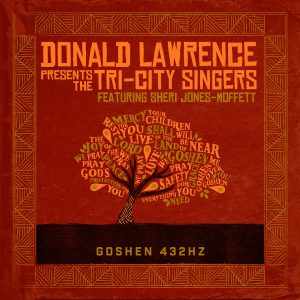 GRAMMY® Award-winning legendary recording artist, songwriter, and producer Donald Lawrence continues to be a pioneering force in Gospel, as the chart-topping choirmaster reunites with The Tri-City Singers to launch the new single, "Goshen 432 hz."  Available now on all digital music platforms, and freshly delivered to Gospel radio nationwide, "Goshen 432 hz" kicks off a landmark anniversary reunion of Lawrence with the original Tri-City Singers, commemorating the 25 years since the 1993 release of the seminal debut album, A Songwriter's Point of View.
The first single from Lawrence and The Tri-City Singers' upcoming 25th anniversary project, "Goshen 432 hz" is a powerful call of protection, love, peace, and safety all over the world – with the voices of Lawrence and the Carolina-based singers, and featured soloist Sheri Jones-Moffett on the song.  In these present times, where fighting, hatred, and fear continue to impact families and communities everywhere, Lawrence and co-writer Jermaine Dabney have created a lively anthem of strength and healing.  Speaking on the spiritual concept of Goshen, which refers to God's protected place, "Goshen 432 hz" is produced by Lawrence, reflecting his distinctive musical gifts in forging the unique sound of the much-beloved choir that continues to influence fans to this day.  He has tuned the song to 432 hz, referring to a frequency that is widely considered a spiritual and sacred tuning, based on historical findings from early instruments of Biblical times, with a lower pitch tone that is also said to be more calming and peaceful.
Donald Lawrence says: "To pray Goshen is to pray God's supernatural protection for you, your loved ones, and those connected to you. May God's Goshen be with you. In the hard times we are living in today, we pray Goshen over you!"
In addition to his upcoming 25th anniversary project with The Tri-City Singers, Donald Lawrence also maintains a busy schedule traveling the country, on the McDonald's Inspiration Celebration Gospel Tour, which kicks off in May.
Donald Lawrence Presents The Tri-City Singers (feat. Sheri Jones-Moffett): "Goshen 432 hz" is available everywhere now.